Mirage
M3 Lee Tank Crew - USA 1943
Kit #702
Article by Doug Chaltry; last updated 22 March 2008.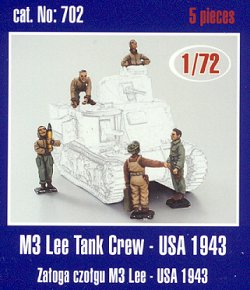 Although Mirage has labeled this set of five US tank crew figures as specific to the M3 Lee, I think they could be used with early US Shermans as well. The set includes three standing figures, one crouched figure, and one half-figure for placement in an open hatch. The standing figures measure about 23.5 to 24mm tall without their headgear, which makes them average 5' 7" (1.70 m) tall in 1/72nd scale.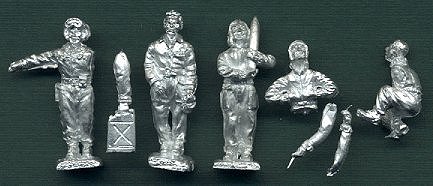 These figures are very good. The sculpting is excellent, with very distinct uniform details, and individualized facial expressions. Body proportions are very good, with the exception of the half-figure, whose torso seems very thin to me. Maybe he just needs a good meal. Two of the figures are wearing hoods on their jackets that I believe that these represent an early war uniform option.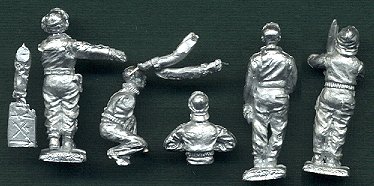 Here is a scan of the figures after they have been primed, to better show the detail: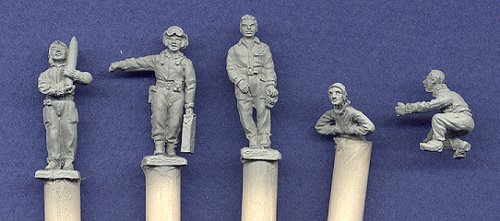 The only drawback to the figures is the metal used for the casting: it is SO hard that I can't trim or sand it using any of the tools in my arsenal. This makes getting rid of the few casting seams to be quite difficult. You can see one beneath the outstretched arm of the fellow carrying the fuel can.
These are outstanding figures, and I sincerely hoped that Mirage would have continued the series, especially with Allied figures. But apparently that hasn't happened.
Thank you very much to Mirage Hobby for providing the review sample.
---
Back to Non-Sherman Accessories List