MMS
US AFV Crew 1944
Kit #A8
Article by Doug Chaltry; last updated 22 March 2008.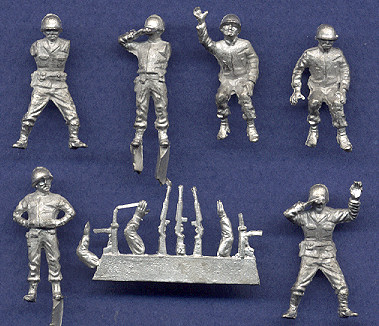 MMS figures are 1/76th scale. Unlike the Milicast resin figures, these MMS dudes are a little more delicate, and measure 22-23mm tall with their helmets, which puts them more in line with 1/76th, but they can easily be used for 1/72nd scale as well.
These guys aren't quite as well done as the MMS Tank Commanders set. I really like the uniforms, and although the poses are a little bland, overall they're fairly useful, but perhaps more so for half-tracks and other AFVs than for tanks. But the faces and helmets aren't done as well as the ones in the tanker helmets in the other set. Hopefully a decent paint job will add the detail and personality that are missing from the sculpting. A few carbines and "grease gun" submachineguns are included as accessories. Unlike the figures, I'm not sure that the smaller size of these items will be appropriate for a 1/72nd scale diorama, but perhaps I'm just being overly cautious.
---
Back to Non-Sherman Accessories List