CMK
British Tankers & Civilian WW II
Kit #F72140
Article by Doug Chaltry; last updated 22 March 2008.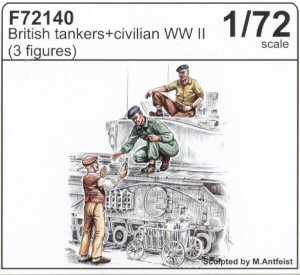 Not a typical tank crew set, what with only two crew figures, both just lounging around on the tank, but hey... at least they're British. Although the poses are slightly disappointing, the sculpting and casting of the figures is first rate. I've not research British tanker uniforms, so I can't really comment on their accuracy. The standing figure (the French civilian) measures to approximately 26mm tall, which I think is a bit excessive for the scale.

---
Back to Non-Sherman Accessories List