The M7B1 followed the M7 in production as the supply of surplus M3 Medium tank hulls was running out. Based on the M4A3 Medium tank, the M7B1 was powered by a Ford GAA V-8 gasoline engine, as opposed to the M7, which ran on a Continental R-975 gasoline engine. This resulted in a rear engine deck and hull shape that differed significantly between the two vehicles, and is the only failsafe way to differentiate between them. See my preview of the UM M7 HMC for more information on the distinctions and commonalities between the two.

The following sprues are included in this kit, some of which are shared with the M7 kit.

By all accounts, this appears to be a very nice model. The molding and casting quality are typical of the other UM Sherman kits, i.e., not exceptional but pretty decent. The detail both inside and on the exterior of the hull is abundant, and appears accurate for this version of the Priest. All of the specific details that were common on the M7B1 (as well as late examples of the M7) are present: heavy duty bogies, extended machinegun pulpit, cast, "sharp-nose" final drive housing, armored plates for ammunition ready racks, etc. The fighting compartment walls are a little thick, which is to be expected with an injection-molded kit; I guess the only better way to have done it would be with photoetched armor plates, but that's what the aftermarket industry is for, right? It is unfortunate that UM have still not fixed their flawed tracks, as I really like hard plastic, link & length tracks. They had previously replaced their flawed spoked wheels, so I was hopeful they would do the same with the tracks, but it would probably not be worth their investment to do so. Regardless, we have several options available to us for replacements.

As typical with UM kits, a fret of photoetched metal is included in the kit, and it holds many very important parts, such as the track return skids for the heavy duty suspension units, engine grates, mesh storage bins, and of course, brush guards for the headlights.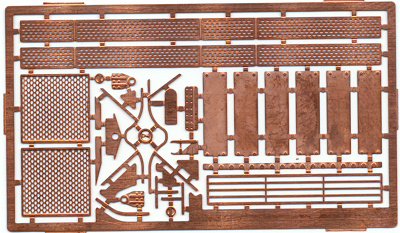 Markings are provided for four vehicles:
276th AFAB (armored field artillery battalion), 3rd Army, France, September 1944
"HELL BOUND" Battery B, 300th AFAB, X Corps, Korea, July 1951
"ALL AMERICAN" Battery A, 231st AFAB, 6th Armored Division, Germany, December 1944
"CHEF GEYSSELY" - This one is confusing to me. The instructions state that it is also with the 276th AFAB, 3rd Army, France, September 1944 (as the one above), but I wonder if this was a typo, because it is actually a French Priest from the 31st Firing Battery, 64ème Régiment d'Artillerie de Division Blindée, French 2nd Armored Division. Perhaps this unit was under the operational command of the 3rd Army? I cannot find this vehicle anywhere in my references.