Mirage
WE210 Track Details
Kit #72804
Article by Doug Chaltry; last updated 17 November 2007.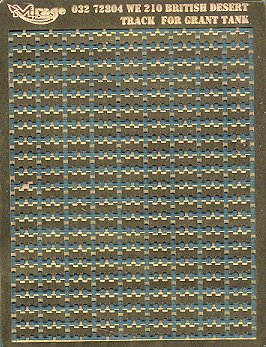 In my review of the new Grant Mk.I model from Mirage I commented on the lack of WE210 tracks in the kit. This style of track was developed by the British to provide extra traction in the desert environment, and was common on Grants, Shermans, and other vehicles based on the M3 and M4 chassis. The Mirage Grant kit comes with the T41 (or T51) solid rubber block track, which although it was possible to mount those on the Grant, based on photographic evidence, I don't think those styles were very common on that tank. The WE210 (also called the "double-I" pattern) was the most common track on Grants, and this etched brass detail set provides the modeler with the ability to modify the Grant kit tracks into WE210 tracks. The set consists of 180 individual pieces to be glued to the rubber blocks of the kit tracks, adding the necessary tread detail for this track type. Although molded WE210 tracks would have been preferable, this is a neat and inexpensive solution to the problem, and will probably look really good when completed.
Thank you very much to Mirage Hobby for the providing the review item.
---
Back to Sherman Accessories List