M4 Sherman Dozer Blade
Fine Scale Factory
Kit #WZ-54
Article by Doug Chaltry; last updated 12 November 2007.
I have long wanted to build a Korean War version of the Sherman tank. The most prevalent version of this tank to serve in that war was the M4A3 HVSS, kits of which were quite scarce until recently. Models of the Sherman with the VVSS suspension are more common, yet that tank served in Korea only in small numbers, and all the photos I have seen of it show it to be serving with engineering units, equipped with this bulldozer blade. I have wanted this accessory set from FSF for quite some time, and now that I have it, perhaps I can finally proceed with my Korean War Sherman plans.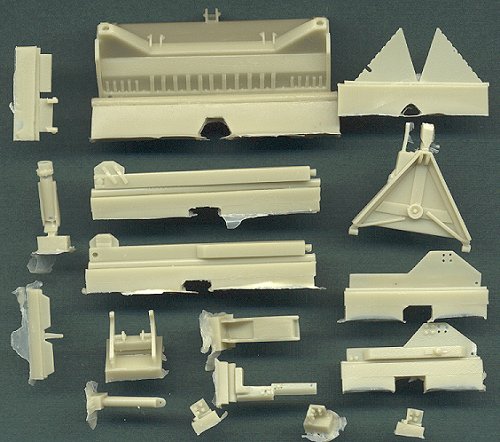 The set is finely cast in light green resin. All parts are very detailed with no obvious blemishes in the resin. The instructions are adequate to do the job, although I have heard a report that the hull mounting bracket interferes with the tank's bow machinegun port. Keep this in mind when building, in order to try and avoid that hassle (thanks for the tip, Tony).
This accessory was designed to fit on the Fine Scale Factory Sherman kits, which in turn, are based on the old ESCI Sherman models. So in reality, this kit will likely fit any Sherman model that is also based on the ESCI models.
---
Back to Sherman Accessories List