ExtraTech
Sherman M4A1 Brass Detail Set
Kit #EXV 72-003
Article by Doug Chaltry; last updated 12 November 2007.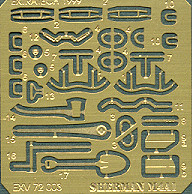 This moderately useful set is composed of 31 parts, which include:
wire periscope guards
metal framework for turret rear
mechanical gunsight
hatch handles and lift rings
headlight guards
pioneer tools
machinegun details
Unlike many other ExtraTECH detail sets, this Sherman set actually contains many parts that I do not find useful. I am referring to the pioneer tools, hatch handles and lift rings. I feel that etched brass is too 2-dimensional for these parts. It is better to use wire or solder for the lift rings and handles, and styrene for the tools. It would be good, however, to use the brass shovel blade combined with a styrene handle, and perhaps the axe head, also, after thickening some with putty or plastic. If you are looking only for headlight and periscope guards, then the low cost of this set is appealing, even considering the useless parts. The set is designed for the Revell Sherman, but could be used on any Sherman-based vehicle, and it includes good instructions.
---
Back to Sherman Accessories List