ExtraTech
Achilles IIC Gun Barrel
Kit #72018
Article by Doug Chaltry; last updated 17 November 2007.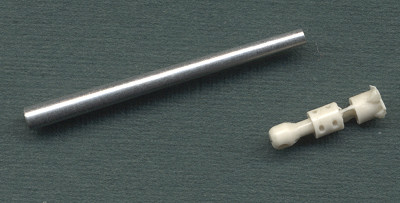 This is the same 17 pdr barrel that is included with the ExtraTech Achilles Extrapack kit (#72033), now sold as a separate item. It measures about 2mm long, but a certain amount of the end will fit inside the resin muzzle brake collar, and perhaps also inside the gun mantlet housing, so perhaps the length is perfect. Won't know until I build it. Tips of both the barrel and the muzzle brake are drilled open, though the resin piece is a little plugged and will need some cleaning out. One air bubble in the resin at the very edge of the opening, but it should be easy to fill. I feel that the plastic 17 pdr barrel included with the Achilles kit is tapered too much (too broad at the base, and too narrow at the end behind the muzzle brake), but this replacement barrel fixes that flaw very nicely.
---
Back to Sherman Accessories List