ESCI
M4A3 Sherman
ESCI Kit 8064; ESCI/Revell # H2365; ESCI/Ertl # 8306; ESCI/Ertl # 8604 w/paratroops
Article by Doug Chaltry; last updated 31 October 2007.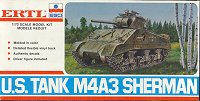 This M4A3 kit is very similar to ESCI's M4A1, with the same turret, lower hull, wheels and tracks. The upper hull is, of course, different, representing the welded-hull of the A3 version. There are fewer options here, with the engine deck molded closed, with no engine or interior detail included. The lack of applique armor on the hull sides indicates this is a wet-stowage vehicle, but it would be a very simple matter indeed to add the extra armor for a dry-stowage version. While the overall detail of the kit is pretty decent considering its age, it doesn't compare well to the newest kits on the market. As with the M4A1 kit, the hull is a little bit short.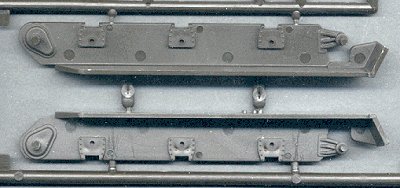 The chassis is quite well done. Those ejection pin marks will be noticable once the tracks are installed, so be sure to fix them early, while it's convenient. As usual, if you get an early release of the kit, as most of these apparently were, the single-piece vinyl tracks are fairly poor. But the hard plastic tracks that come in the ESCI/Ertl releases (plus some of the diorama kits, if you are lucky enough to find one with this kit) are very good. They represent the raised-chevron type, and would be suitable for either the rubber or steel chevron tracks.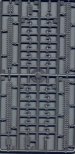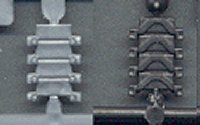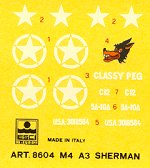 As always, the decals vary with the release, and if you get ones that are a single color, like this sheet here, they are really quite good, if a little bit stiff. Nothing that some Solvaset won't handle.
Although not yet re-released by Italeri, I believe that this kit is on their schedule for future release. Although this might make some people happy for nostalgic reasons, it really doesn't benefit collectors very much, considering they won't be in the original ESCI boxes. And as for people who want to build an M4A3 (75), there are better models now available from other manufacturers.
---