I find this to be one of the most exciting sets to come from Bison Decals. Not to discourage Bison from producing more WW II sets, but markings for modern armored conflicts have long been overlooked in this scale, and considering the wide scope covered by this set, it is indeed quite welcome.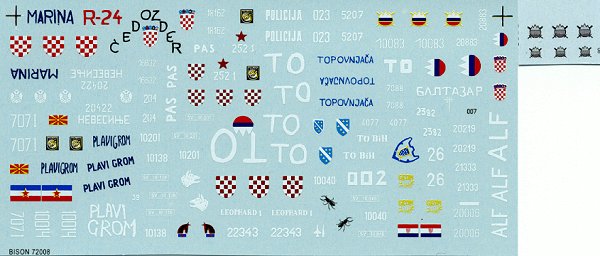 This set includes complete markings for a staggering 34 vehicles, including the following:
5x T-34-85M
PT-76
11x T-55A
T-55/M-18 Hellcat Hybrid
ZSU-57-2
M-55S1
2x M-84 (version of T-72)
M-18 Hellcat
2x M-36B2 Jackson
M-47 Pershing
BRDM-2
SA-9 SAM
2x 2S1 Gvozdika SPG
TAB-71 (version of BTR-60)
BTR-50 PB
BTR-50PU
BTR-80
These vehicles include examples from the armed forces of Yugoslavia, Serbia, Croatia, Slovenia, Bosnia and Macedonia. As with the earlier Bison sets, these decals are very well printed, thin, with vibrant colors, and in perfect register. The instructions are very comprehensive: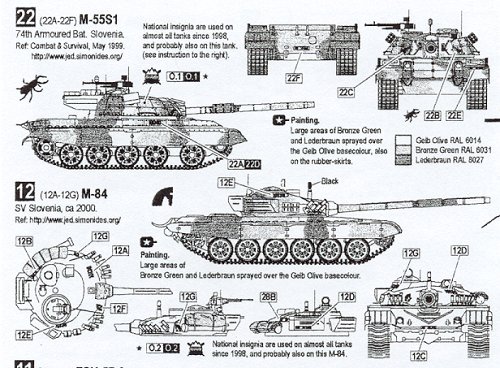 . . . and they include lists of references for modelers to follow up with their own, more detailed research.
Thank you very much to Bison Decals for providing the review sample.
---