Al.By
M10A1 Tank Destroyer
Kit #777
Article by Doug Chaltry; last updated 31 October 2007.
This was one of my first Al.By kits, and I must say, now I understand why everybody is so hyped about these kits. They are fabulous. This particular kit is a conversion designed for the old ESCI Sherman kits, either the M4A1, or M4A3. I imagine that it wouldn't also be suitable for use with a Dragon kit, or other more modern Sherman kit, due to the incorrectly short length of the ESCI kits, which this set is designed to accomodate.
As you can see, several parts are needed from the plastic donor kit, specifically the lower hull, chassis, wheels and tracks, as well as some of the smaller hull details. The turret is open, which allows for a great view of the interior, so I think the ESCI M4A1 kit would be better suited, since it includes some hull interior details that the M4A3 doesn't. Not much detail is supplied by Al.By for the turret interior. Just the gun breach, gunner's seats, and some ammunition for the turret walls. I'd recommend getting some photos or drawings of the turret interior so the missing detail can be scratchbuilt.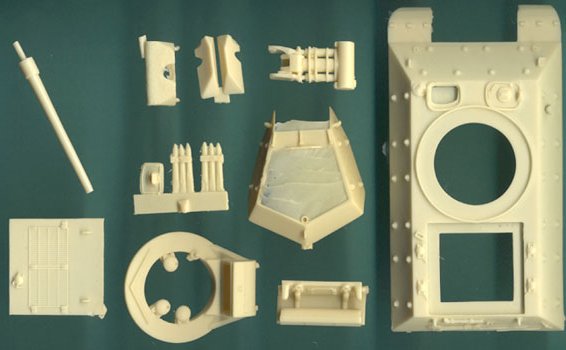 The driver's hull hatch is molded open, if the modeler wants to detail the driving compartment, or place a figure in the open hatch. I recall hearing from another modeler who said it was a fairly easy task to alter the gun mount a little bit and make it possible to raise and lower the gun. As the kit comes, the gun is to be glued into a static position.
The differences between this M10A1 kit and Al.By's M10 conversion is the engine deck, and the style of rear turret counterweights. The M10A1 was a gasoline-powered vehicle based on the M4A3 Sherman, and it never saw action in the war. Most of them were eventually converted into M36 tank destroyers. I find it curious that the underside of the engine deck is labeled: "M10A1, M35, M36B1, Ach Mk II." As far as I know. Al.By never released those vehicles (though it's never too late...).
---
Back to Tank Destroyers Kit List