ARMO
M4A1 Sherman
Kit #72442
Article by Doug Chaltry; last updated 7 April, 2008.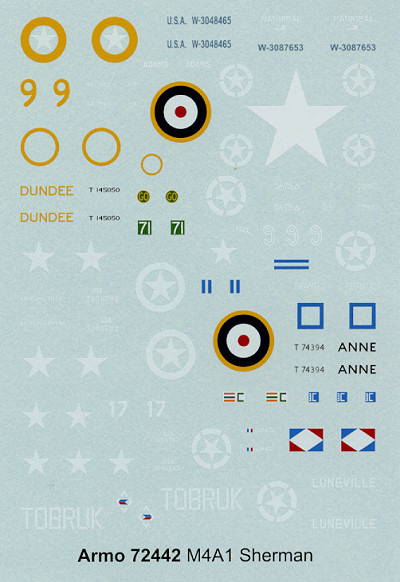 Unlike ARMO's M4A2 set, this one is not labled as Part 1. It would be disappointing if ARMO does not release another set of markings for this most ubiquitous version of the Sherman tank.
Specific subjects in this set include:
M4A1 Sherman. 191st Tank Battalion. Salerno, Italy, 9 September 1943.
M4A1 Sherman. 66th Armored Regiment, 2nd Armored Division. Sicily, Italy, 1943.
Sherman II. 24th Armoured Brigade. El-Alamein, October 1942.
M4A1 Sherman. 751st Tank Battalion. Mt. Valbura, Italy, 14 April 1945.
M4A1 Sherman. 31st Tank Battalion, 7th Armored Division. Chartres, France, 16 August 1944.
M4A1 Sherman. 13th Armored Regiment, 1st Armored Division. Anzio, Italy, March 1944.
Sherman II. Staffordshire Yeomanry. El Alamein, October 1942.
M4A1 Sherman. 30th Infantry Division. St. Lo, France, July 1944.
M4A1 Sherman. 4th Squadron, 2nd Regiment Chasseurs d'Afrique, 1st (French) Armoured Division. France, 1944.
Sherman II. HQ Squadron, Carpathian Lancers Regiment. Civitanova, Italy, June 1946.
As always, these decals are printed to the highest quality.
---