AFV-Decals
IDF Armor Part 1
The 1948-73 Wars
Kit #7208
Article by Doug Chaltry; last updated 2 February 2008.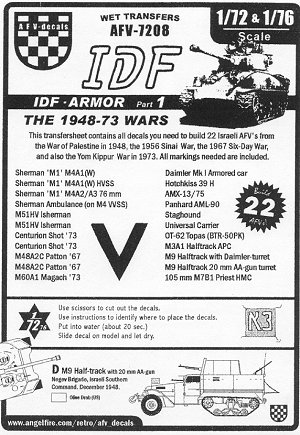 What a diverse set! The Israelis certainly used a wide variety of equipment during their early wars, and this set provides markings for 22 vehicles, some of which I never knew were used by the IDF, such as the Hotchkiss 39. Although 1/72nd scale is missing a Centurian (I believe there are several in 1/76th), most of the others are available in resin or plastic, or are easily converted. Specific Sherman variants in the set include:
Sherman "M1" M4A1 (W)
Sherman "M1" M4A1 (W) HVSS
Sherman "M1" M4A2/A3 76mm
Sherman Ambulance (on M4 VVSS)
M51 (x2)
M7B1 Priest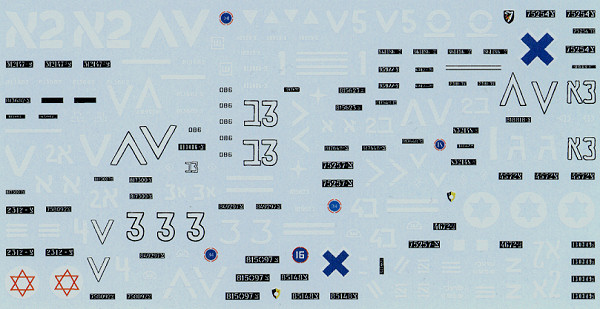 The scan above has had its contrast altered to make the white more visible, so the actual decals are a little more colorful, with some dark blue and orange markings. Notice the hand-painted appearance of several of the markings.
Like all of the AFV-Decals, these are very well printed, very thin, and registration is almost perfect.
Thank you to AFV-Decals (now Bison Decals) for the review sample.
---