UM
M4(105) HVSS Sherman
Kit #375
Article by Doug Chaltry; last updated 2 December 2007.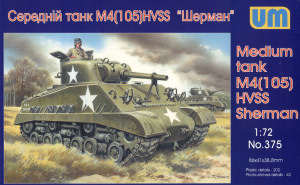 Apart from Mirage, UM was the company that I most wanted to do a line of Shermans. In the past, they established a reputation for releasing very high quality kits in a modular form, so that entire series of related tanks could be marketed with minimal effort by re-using common sprues and tooling only a minimal number of new parts for each version. For the UM Shermans that have been released to date, I feel they only partially accomplished this goal. The kits are indeed modular, even to a greater extent than I expected, but the problem is that the quality of the kits is simply not there. Don't get me wrong, this isn't a bad kit, as you will see, but when compared to the newest Dragon Shermans, and even the Trumpeter kits, the UM Shermans are found lacking.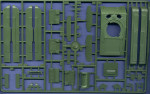 Beginning with this first sprue pictured above, you can see the main strength of this kit in its wide array of optional parts and its modular design. The hull is bare bones, which is both good and bad. There aren't any pioneer tools molded onto the hull, the hatches are open, and even the fuel filler caps and ventilator cover need to be attached. However, it is also lacking any sort of surface detail, such as a texture to the hull armor, or even weld lines between the armored plates. Thankfully, these are things that can be added quite easily by the modeler. It's difficult to measure the hull length without first assembling all the hull parts, but the hull width is spot on for this scale.
Look at the options: there are three different fenders included (M4/M4A1, M4A2 and M4A3), four different rear hull plates where the exhaust parts are located (M4, M4A1, M4A2 and M4A3), and three different rear armor plates for the upper hull (M4, M4A2 and M4A3). The engine deck on the hull top is open, which allows for inserting the engine deck of your choice, and it also makes it easier for the modeler to install an engine compartment if they feel like scratch building one, or if some industrious aftermarket company were to make some (are you listening Goffy?). The crew hatches, though molded open, are detailed only on their outer surface.
The above sprue is shown front and back. Only one copy of this sprue is included in the kit. This sprue provides the lower hull parts, a pair of engine deck inserts, and many of the kit's smaller details. The engine deck for this particular kit, the M4 (also used for the M4A1) is included on the previous sprue. This sprue has the engine decks for the M4A2, and what I can only guess to have been for the M4A3, though it barely resembles how that engine deck should look. I am curious to know if UM's newest Sherman kit, an M4A3 (which I haven't seen yet) includes a corrected engine deck or not.
Other details on this sprue include a fine selection of pioneer tools, fluid filler caps, lift rings, machineguns, and exhaust parts. Those funky looking parts in the upper right corner of the scan (#46 and 69) are actually forms to be used to press the brass parts into them and bend them into their proper shapes. This is really cool, and I wish all companies that include brass parts in their kits would follow UM's lead on this innovation.
The wheel and track sprues are shown above, front and back. Two copies of this sprue are included in the kit. If you refer to my article comparing the HVSS suspensions of this and three other kits, you will read that overall the suspension in this kit is pretty good. The scale accuracy of the parts is very good, though not perfect; the level of detail on the bogies is very good, though not perfect; and the bogies are very complicated and take a fair amount of time to assemble. But the result is light years better than the old Hasegawa HVSS parts, and I really like this suspension a lot. The tracks are my favorite HVSS tracks currently available simply because they are molded in link-and-length, hard plastic. The raised chevron detail isn't as fine as other kits, but once painted and weathered, I think they will look great. The sprocket wheels are the late version with the solid metal sprocket ring (no cutouts behind the teeth), but they could be a little more detailed.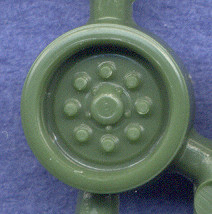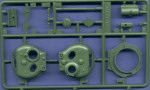 The turret(s) let down this kit. You have a choice of two: the early style with split commander's hatch, or the late style with the all-around vision cupola. Although they measure out fairly well in size, the detail is rather soft and indistinct in places, and does not compare favorably against other Sherman kits. Also they appear to be of the low-bustle variety, which is incorrect for a late version, big-hatch hull. In fact, I doubt there was ever a low-bustle turret to be seen with a commander's cupola. Are the turrets usable? Of course; especially if used on a different kit with the early hull shape. But I wouldn't use them on this kit.
The gun barrel measures to within a half millimeter of correct, and the gun's rotor shield, which has received a lot of scrutiny when compared to the Dragon's attempt at the same kit, I measured to be about 0.6mm too narrow. Personally I don't think that's too bad. Although you can't see the front of it in this scan, it's pretty well detailed, though not exceptionally so. The crew hatches are detailed on only their outer surfaces, but the hatch for the commander's cupola has extremely nice detail on the outside.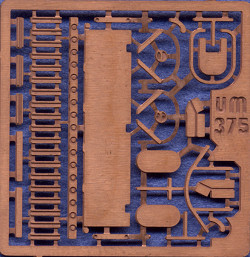 Etched metal parts (which I think are copper, not brass) are etched in two passes, and are fairly thick, which is pretty great. The typical headlight guards are provided, though not periscope guards, as are parts of the rear hull storage rack and the brackets for the extended side fenders, which is a first for 1/72nd HVSS Shermans.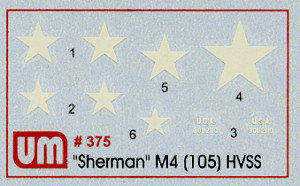 Markings: pretty damn simple. One vehicle is included from the 750th Armored Battalion, Belgium 1944. They consist of a bunch of stars of different sizes and vehicle serial codes. UM's taking a page out of Dragon's old playbook by giving us such a wide variety of markings. /snark
Bottom line? I like this kit for the innovations introduced by UM, in particular the modularity of the kit design, and the consequent number of spare parts for use on other project. However, with its simplified detail and incorrect turret design, it's hard to score this kit with very high marks.
---