Quartermaster's Depot
Canadian Shermans #2
Kit #72007
Article by Doug Chaltry; last updated 6 August 2008.

Quartermaster's Depot has been out of business for quite some time now. I was very disspointed when I found out that fact, as I had never taken the opportunity to try any of their products. Focussed almost entirely on Canadian subjects, they have a large number of decal sets that are specific to, or include, Sherman tanks and its variants. I was lucky enough to find this set for sale recently, and now I finally have the opportunity to build some Canadian Shermans.
The decals appear to be printed very well, with sharp, bright and well-saturated colors. The markings are printed on a continuous sheet of decal paper, so the carrier film around each decal will need to be closely cropped. Registration on this sample is perfect. I had to heavily adjust the brightness and contrast on this scan to make the white markings legible, so the appearance of the actual decals is better than what is shown here.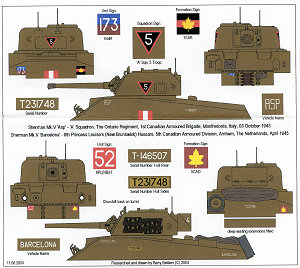 Beautiful placement instructions are included, printed in color, and the meticulous research and artwork was done by Barry Beldam, who has an awesome website with gorgeous color and markings information for a wide variety of vehicles.
This set includes markings for the following tanks:
Sherman Mk. V "ASP", A Squadron, The Ontario Regiment, 1st Canadian Armoured Brigade, Manfredonia, Italy, 3 October 1943
Sherman Mk. V "BARCELONA", 8th Princess Louse's (New Brunswick) Hussars, 5th Canadian Armoured Division, Arnhem, The Netherlands, April 1945
Sherman Mk. V "COBOURG", C Squadron, The Three Rivers Regiment, 1st Canadian Armoured Brigade, Ortona, Italy, 23 December 1943
Sherman Mk. IC Hybrid, The Fort Garry Horse, 2nd Canadian Armoured Brigade, Laren, The Netherlands, 8 April 1945
---