This is the MR Models Sherman M4A2 (76). As with most MR resin Sherman kits, this is a conversion kit for the ESCI/Italieri M4A1 late, since you need the bogey trucks, tracks, lower chassis and a few other sundry parts from that plastic kit.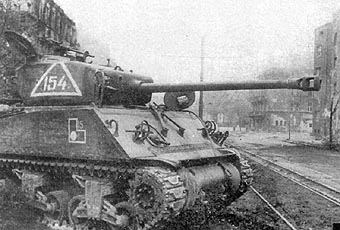 Colours are for a Soviet lend-lease vehicle of the 219th Tank Brigade, 1st Mechanized Corps, in Berlin, May 1945. According to the photo I've found for this vehicle (see above), it had the muzzle brake mounted on the main gun, the antiaircraft .50 calibre machinegun and very little stowage.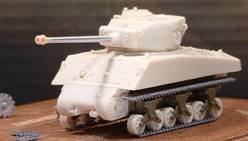 Since the MR kit comes with a turned aluminum barrel without the brake, I created one a using a spare Pak 40 muzzle brake I had in the spares box. The .50 cal is an etched brass and resin piece produced by Extratech. I painted the vehicle overall in Tamiya Olive drab lighted with Tamiya buff, then washed in black enamel and dusted with more buff.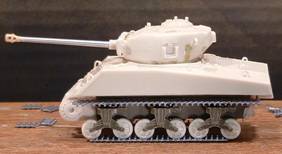 The decals are by ARMO of Poland from their "Shermans in Foreign Service" set. They were put on over a coat of Model Master clear acrylic gloss clear and then sealed with clear acrylic matt coat. Weathering was kept to a minimum since these vehicles must have arrived in Soviet hands not long before the final battle in Berlin.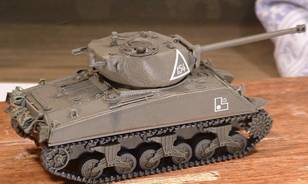 A small amount of extra gear (a captured German hot food container, a jerry can and a tarp) was added to the rear of the vehicle. A tow rope, from the 1/72nd scale Mirage M3 Grant kit, was attached on the front glacis and run back to the rear. This cable is produced in soft plastic (the same stuff that tracks often come in) and really conformed well to the contours of the tank.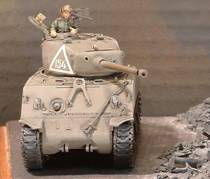 The commander figure is one of Mig's excellent resin figures. The base is an old award plaque. I used a model railroad brick wall section (vacuformed plastic) for the cobblestone road. The dramatic looking building in the background is the "Classical" building recently offered by Tiger Production. I used crushed gravel with occasional bits of square plastic stock (for bricks) and other odds and ends for the rubble in front of the building.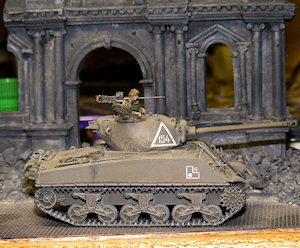 Source Documents
Photo from The Russian Battlefield (http://www.battlefield.ru/) - article "M4A2 'General Sherman' in USSR"
Zaloga and Grandsen, Soviet Tanks and Combat Vehicles of World War Two, Arms and Armour Press, London: 1984
Zaloga and Laurier, M4 (76mm) Sherman Medium Tank 1943-65 (New Vanguard), Osprey Publishing, Oxford: 2003
---