I am still learning about the Israeli modifications to the Sherman tank, which resulted in the M50 and M51. Gannon's book Israeli Sherman is a fantastic reference, but lacks certain useful items, such as scale drawings, and is very speculative in parts. And unfortunately, the premier reference series on Israeli Shermans, Manasherob's Lioness & Lion of the Line series, has not yet progressed past the early versions of both tank types.

As to the types of M50, Gannon refers to a Mark I and Mark II, the distinction between which is the type of engine it used - Mk Is with the Wright Continental R-975 gasoline engine, and the Mk IIs with the Cummins diesel engine. Within each of these Marks there was a lot of variation, such as which hull type was used, which suspension, etc.

This conversion set from Modell Trans represents a late Mk II with the HVS suspension. It was created by modifying a Dragon M4A3 HVSS hull, and is meant to be used as a conversion set for that kit.

The substantial change made to the hull piece was the replacement of the engine deck with the style appropriate for the Cummins diesel engine. Some stowage attachment points were added to the hull sides, but most everything else is unchanged from the original plastic part.

The turret was modified from Dragon's late 75mm turret, by adding the front and rear turret extensions to make room for the new cannon and its mount. Other details were improved as well, such as the hatch springs and periscope cover. The handrail was molded in place - a very delicate operation - and was broken in my sample. I would have replaced it anyway with a finer gauge wire. Also, the new armored rotor shield is a little too sharply pointed in the front, and needs to be more rounded with sandpaper. The set allows for an open commander's hatch (though you'd have to drill an opening into the turret to accomodate a figure), but the loader's hatch is molded closed.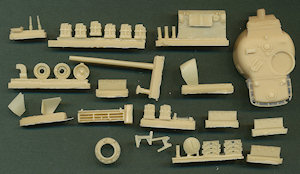 Other parts included in the set are a new rear hull plate, a search light, the new gun of course, with a gun cradle, and a whole lot of stowage items for the hull sides. Molding is very good on all parts, and the casting was pretty decent as well, with only a few air bubbles present on some of the parts.