Mirage
M3/M4 T-48 Track
Kit #72T01
Article by Doug Chaltry; last updated 26 May 2008.

Released soon after the Mirage M3 Medium Tank kits, this track is suitable for both the M3 and M4 medium tank series. According to Mirage, this material is able to be glued and painted without the problems that are typical of normal soft vinyl tracks. However, a problem that is NOT typical of other tracks that I have seen is the issue of sinkmarks in the center of each chevron, as can be clearly seen in the following scan: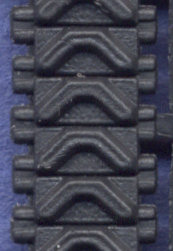 Hopefully I just got a bad set, and they're not all like this. Otherwise these are nicely detailed tracks, and should be quite easy to use.
---
Back to Sherman Accessories List