Second in the line of M3 Medium Tanks from Mirage was the initial British version of this tank designated the "Grant" Mark I. Since the several versions of the M3 Medium were all very similar, a great many of the parts will be common between all released versions of this model. I refer the reader to the preview of the M3 Lee kit, which includes a much more in-depth analysis of the kit parts. Below I will show the new turret for this kit, as well as discuss some fine points about this version.

The above sprues are the same as in the M3 Lee kit.

The following sprue is the Grant turret, and is included only in the Mirage Grant kits. This sprue also contains the sand shields that were mounted on British vehicles in North Africa. Although it appears that the turret is greatly misformed to the right of the gun mount, this is in fact the correct shape for this part. The commander's hatch is molded open.

When I first reviewed this kit, I noticed a significant problem with the tracks. The tracks included in this kit are the same solid rubber block tracks (T41 or T51) that are included in the Lee kit. Although Hunnicutt states that these tracks were one of the standard track styles for the Grant, along with the T48 chevron and WE210, all of the photos I have seen of the Grant show these tanks mounting only the WE210 track. The WE210 style is called the 'double-I' style, and was developed for better traction in desert warfare. Since I have seen photos of Grants with only the WE210 tracks, I assume that this was the most prevalent style, and it would have been nice to have those included with this kit.
Mirage has addressed this issue by releasing an etched brass "conversion set" for this kit, which allows us to modify the kit tracks, and convert them into the WE210 pattern. There are resin aftermarket WE210 tracks available as well.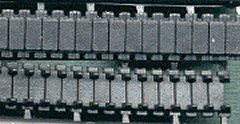 The excellent etched brass parts are the same as those included in the M3 Lee kit.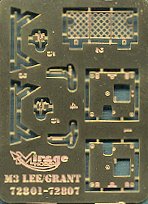 Decals are included for four vehicles, all in the Western Desert or the Middle East. The decal quality looks fantastic, and as a bonus, additional tactical signs are included for the British Armored Divisions in the Western Desert. Mirage is setting the standard for kit decals that other companies can only try to emulate.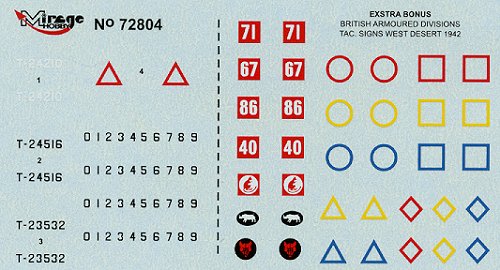 This is an awesome model and is light years ahead of the ancient Hasegawa offering. If Mirage can improve their casting technique to eliminate the sinkmark problem, and include WE210 tracks, this would be an almost perfect kit.
Thank you very much to Mirage Hobbies for providing the review sample.
---
Back to M3 Medium Tank Kit List