Italeri has released a line of 1/72nd quick-build kits for the wargaming market. Not to be confused with their standard line of scale models, these are simplified kits along the lines of the Armourfast range, and other wargaming kits. However, the detail on this M4A3 76mm kit is outstanding, and is far out of the league of Armourfast and the other wargaming companies. This model is the same size as the Dragon Sherman M4A3 (76)W kit, and is perfectly compatible with that kit. The details are pretty well done, though not quite to the excellent standard of the Dragon kit. All hatches are molded closed, the pioneer tools are molded onto the hull, and the hull scales out just a little bit short, but most other dimensions are quite accurate for 1/72nd scale.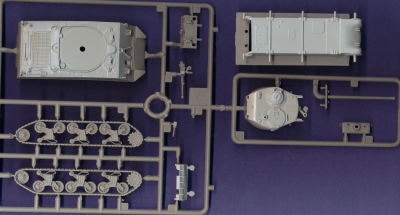 The turret is likewise nicely detailed, with closed hatches. The pistol port on the turret side is the weakest area on this piece, and really needs to be resculpted a bit. The gun barrel is molded nice and straight, and with an open end. One of the interesting features of this kit is that the suspension bogies have the track return rollers mounted on the upward-angled bracket, which I believe is a first for this scale. The detail on the bogies is very well done, so I'm thinking of a way to improve these parts for use on other kits.
This model could easily be converted into a very nice, competition-quality scale replica if the modeler were to replace only a handful of the details. Obvious bits that would need improvement are the headlights and tail lights, gun cradle, lift rings, sprockets and tracks.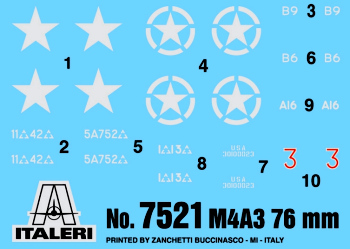 Markings are included for three tanks:
42nd Tank Battalion, 11th Armored Division, Belgium, January 1945
752nd Tank Battalion, Italy, February 1945
13th Tank Battalion, 1st Armored Division, Italy, April 1945
There's not much more to say about this kit. It is pretty accurate in scale and details, and is one of the nicer wargaming kits I've seen.
Two complete kits are included in the box.
---