Italeri has released a line of 1/72nd quick-build kits for the wargaming market. Not to be confused with their standard line of scale models, these are simplified kits along the lines of the Armourfast range, and other wargaming kits. However, the detail on this M4A2 kit is outstanding, and is far out of the league of Armourfast and the other wargaming companies. This model is the exact same size as the Dragon Sherman III kit, and the details on both the hull and turret match the Dragon kit perfectly. A close comparison shows that although Italeri didn't directly copy the Dragon kit, one wonders if the Italeri designer didn't have one in his hand...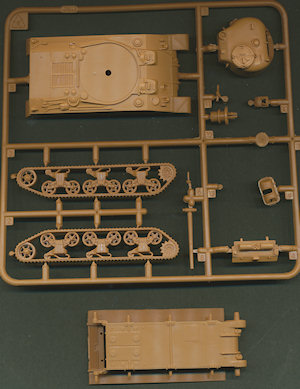 This model could easily be converted into a very nice, competition-quality scale replica if the modeler were to replace only a handful of the details. Obvious bits that would need improvement are the headlights and tail lights, lift rings and tracks. The pioneer tools on the upper hull are not bad (at least, no worse than on the Dragon kit), but the two tools on the rear armor plate need replacing.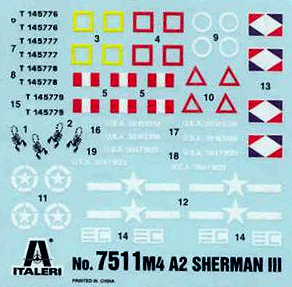 A abundance of decals are included for Polish, British, French and US tanks (the US markings are incorrect, however).
There's not much more to say about this kit. It is perfectly accurate in scale and details, and is one of the finest wargaming kits I've seen.
Two complete kits are included in the box.
---