M4/M4A1 Sherman, Early Riveted Lower Hull, Conversion no. WVC76086/WVC72088
Above is the old part or conversion set number followed by newer part number used by Friendship Models.
The early M4, M4A1 and M4A2 Sherman hull were built with the riveted lower hull as we would find on the M3 Medium tank that came before it. Though listed as for the Sherman M4 and M4A1, with a little modification this lower hull would mate with the early production M4A2 with DV driver's hoods. If used with an M4A2 upper hull you may wish to change and correct the rear engine plate and the bottom access hatches and fittings particular to the diesel engine M4A2. Despite having the 3-piece cast final drive assembly, this lower hull is too short in length to convert to use with an M4A4 model kit.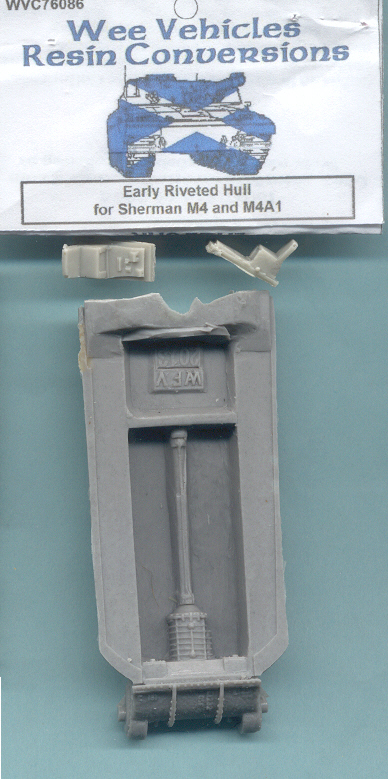 This conversion set is comprised of three gray colored cast resin parts. At the top we have the driver and co-driver (radio operator) seats. Below is the lower hull showing the rudimentary interior of a drive shaft, the transmission and final drive. The interior gives something to see when we model the hatches open. You may wish to add the driver's controls, ammunition in the sponsons, radio etc. I advise not to use the ESCI (Italeri) M4A1 interior parts as these are for a late wet ammunition stowage M4A1, this Wee Vehicles hull is an early M4A1 with the dry ammunition stowage in the sponsons.
On the rear is an accurate M4 and M4A1 rear plate with the engine access doors. No white metal or etched brass parts are included.
Casting quality appears very good. The rivet detail is good and accurate. I will plan to use this with the Wee Vehicles M4A1 DV hull, a Leva Productions low bustle turret or a turret left over from a Trumpeter M4 kit, and 1-piece early VVSS suspension from Wee Vehicles or from M.G.M.
This conversion set was purchased by the reviewer.
---