This is another older kit, one that I am not certain is being produced any more. Fine Scale Factory has greatly curtailed their interest in display-quality armor models, and it may be difficult to find this kit for sale anywhere. As can be seen from the photos, this kit was converted from the old ESCI M4A3 kit. This is a complete kit, not a conversion.

There were a few drawbacks to using the ESCI kit, such as the wheels are poorly detailed, the sprocket wheel is missing a tooth, the hull details are a little plain compared to modern kits, and most importantly, the hull is about 2mm too short. Specific changes made to the hull for this Marine version include the modification to the engine deck to allow a makeshift air intake to be installed (the actual intake, made from a 55 gallon drum, is not included in this kit), wooden armor applied to the hull sides, sandbags on the rear deck, and spare track links added to the hull front as additional armor protection. I am not sure what references were used for the wooden armor, but I've not seen any photos of tanks that have the wooden armor with such large and pronounced bolts. The hull crew hatches are molded closed, which is unfortunate, but the turret hatches are open (though the turret is solid).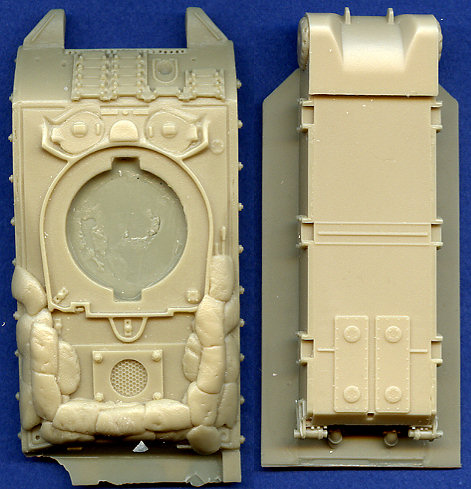 Bogies and wheels are molded as complete units, but the track return skids are removed from the plastic parts, and extremely thin replacements are provided in resin. Although a bit fragile, I know from experience that they look very good when built. The support arms on the bogies for some reason have had their surface detail removed, though some additional detail has been added to the return roller arms. That's confusing why they would have removed the detail from the support arms. Not much has been changed on the turret, aside from some detail added around the gun mount. The gun barrel in my kit is warped, and best replaced by an aftermarket piece. T-49 steel bar cleat tracks are included, which is perfectly appropriate for Marine Shermans, though the T-54E1 style was more common. Plenty of extra track is included.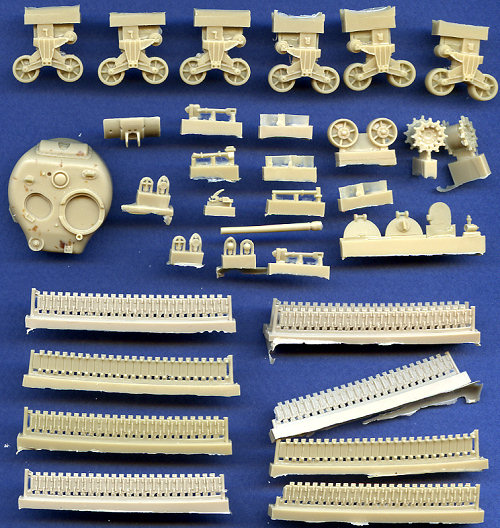 As typical for this company, no decals are included. This is a pretty cool model, but mostly for its unique subject matter. To get a more accurate and better detailed Sherman kit, I would recommend starting with a Dragon M4A3 and scratchbuilding the wooden side armor. But if you are looking for something that would assemble quickly and need only a decent paint job, this kit may be of interest to you. If you can find one.