Fine Scale Factory
Sherman M4A3 HVSS
Kit #TL025
Article by Doug Chaltry; last updated 28 April 2008.
I was really excited when I finally got my hands on one of these kits, which was many years ago when we had few decent Sherman kits available to us. My excitement was somewhat dampened when I opened the box and looked closely at the kit parts, because there were some weaknesses. Now, with today's new crop of Sherman kits on the market, this one is pretty much a waste of time. Fine Scale Factory does deserve some credit though, for being one of the first companies to start producing several versions of the M4 Sherman tank in order to fill a gaping hole in the available kits in this scale. Their earlier series of 75mm, VVSS Shermans was very good, but their 76mm-armed Shermans weren't done to the same standard.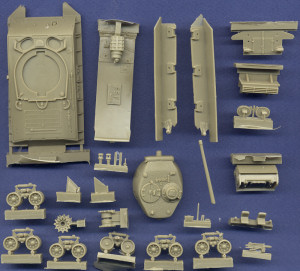 The hull is a modification of the ESCI M4A3 kit and therefore has mediocre detail, and it's a little short in length. A few tools are molded onto the hull (carry-over from the plastic ESCI kit) and are in very poor relief. Very deeply recessed panel lines are abundant, whereas they should be almost smooth weld seams, and perhaps with even a bit of a weld bead standing above the hull. There are a LOT of warped parts in this particular kit, though that's not always indicative of the manufacturer's casting technique. I know this company was capable of perfect resin casting, so perhaps this kit is just a fluke. Extended fenders have been added to accomodate the HVS suspension, and they look very well done. Some minimal interior detail is included, which is nice since the hull's crew hatches are molded open, so we'll be able to see into the hull unless you close them up, or put figures in them.
The turret looks to be completely new, but I am not very happy with it. It represents the early version of the T23 turret with the split loader's hatch. Its gun mantlet is molded onto the face of the turret, thereby eliminating any option for altering the gun elevation. Both hatches are molded closed, which is odd considering the hull hatches are open. It appears that this turret shares the same rough dimensions as other resin turrets based on the Revell turret, but if it was originally converted from that kit, then it has been greatly modified. Unfortunately, it has a serious error in its shape: the side "cheeks" seem very swollen at the base, almost as though the turret was set on a hot plate and started to melt. The pistol port even seems to be sunk into the turret side wall. I think these bulged cheeks can be fixed with judicious use of sandpaper or grinder, but then the nice cast texture of the turret walls will need to be replaced. The center portion of the turret roof is slightly concave, I think as a result of the resin shrinking slightly.
I must admit that I am very disappointed in the wheels. Instead of making all new wheels and suspension springs, FSF copied and modified the HVSS chassis from the Hasegawa M4A3E8 kit. Consequently, there are some serious scale problems here. The individual wheels have been reduced in diameter by removing much of the rubber tire. While this does bring the wheel diameter down to within 0.5mm of the correct size, it makes the wheels look a little strange, with a lot of hub and very little tire. The suspension springs have also been altered a small amount in size, but are still a little tall.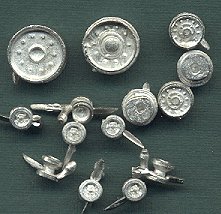 The worst parts of the kit are the idler wheels, which are direct copies of the Hasegawa parts, and therefore about 25% too large. The other smaller wheels are not too bad in size, though could be better detailed. A good solution to this dilemma is to replace the idler wheels with the plastic road wheels from a spare Hasegawa kit, which are about the correct size for the idlers.
The tracks are also sold seprately, and can be used on any HVSS Sherman kits (such that there are). Some of my track parts are molded poorly, but it looks as though there are plenty of extra track pieces included.
Instructions are sparse and no markings are included.
All in all, I think this kit has a lot of unrealized potential. The wheels are disappointing, but may be passable once the idlers are replaced. The addition of spare parts from other kits should make this into a pretty decent model. If you see one for sale at a model show or swap meet (I think they are currently out of production), I would recommend buying it only if it is very, very cheap. There are several other better options for this tank now available in both plastic and resin.
---