Fine Scale Factory
M51 Israeli Sherman
Kit #PW001
Article by Doug Chaltry; last updated 18 November 2007.
Fine Scale Factory was one of the first companies to start producing several versions of the M4 Sherman tank in order to fill a gaping hole in the available kits in this scale. Their earlier series of 75mm, VVSS Shermans was very good, and they were followed by several versions of the HVSS Shermans. This one is the Israeli conversion called the M-51.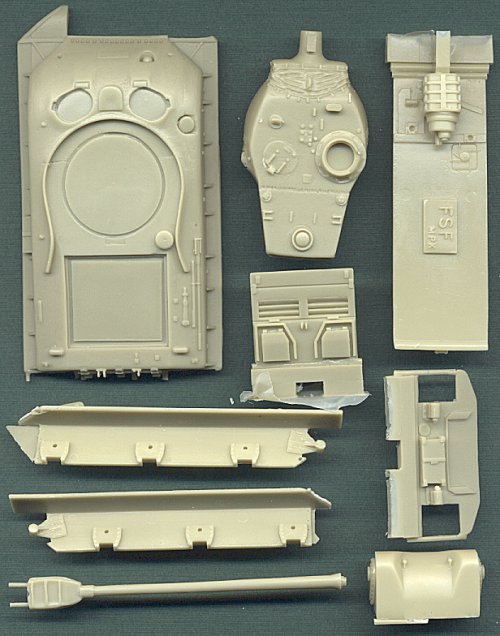 The basic hull is converted from an ESCI M4A1 kit and therefore is nicely detailed, though a little short in length. The turret looks to be completely new and is very well done. I would have preferred both turret hatches to be open, but at least the commander's hatch is. All the open hatches are detailed with periscopes inside and out. A new engine deck is included to reflect the new deisel engine the Israelis installed. A whole bunch of stowage items are included, such as fuel cans, spare wheels and sprockets, storage bins, etc. But I find it curious that no machineguns are present, given the Israeli tendency to mount at least one machinegun on anything that has wheels. Modelers are left with the task of raiding your spare parts box for these guns. Also missing are some smaller bits, such as headlights and pioneer tools. The main gun is molded nice and straight, but I think that muzzle brake is a little too large.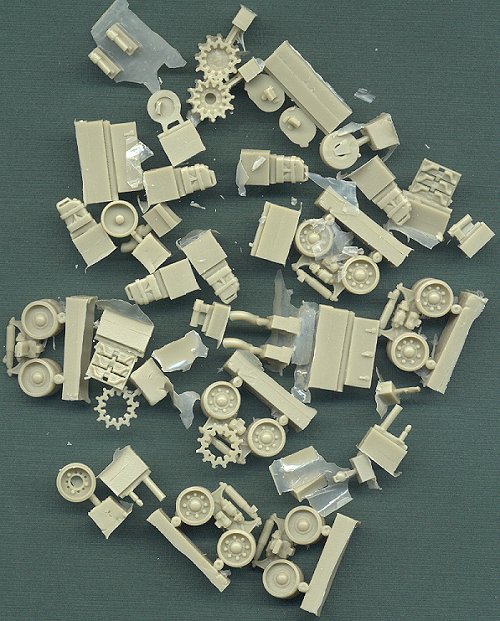 I must admit that I am a little bit disappointed in the wheels. Instead of making all new wheels and suspension springs, FSF copied and modified the HVSS chassis from the Hasegawa M4A3E8 kit. Consequently, there are some scale problems here. The individual wheels have been reduced in diameter by removing much of the rubber tire. While this does bring the wheel diameter down to within 0.5mm of the correct size, it makes the wheels look a little strange, with a lot of hub and very little tire. The suspension springs have also been altered a small amount in size, but are still a little tall.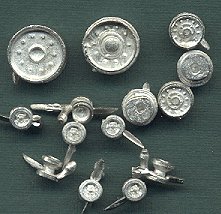 The worst parts of the kit are the idler wheels, which are direct copies of the Hasegawa parts, and therefore about 25% too large. The other smaller wheels are not too bad in size, though could be better detailed. A good solution to this dilemma is to replace the idler wheels with the plastic road wheels from a spare Hasegawa kit, which are about the correct size for the idlers.
The tracks are also sold seprately, and can be used on any HVSS Sherman kits (such that there are). Some of my track parts are molded poorly, but it looks as though there are plenty of extra track pieces included.
Instructions are sparse and no markings are included.
All in all, I think this kit has a lot of unrealized potential. The wheels are a little bit disappointing, but may be passable once the idlers are replaced. The addition of spare parts from other kits should make this into an awesome model.
---
Back to Israeli Shermans Kit List