In light of the [hopefully] immenent release of Dragon's Sherman Jumbo, I thought I better get a preview of this Extratech kit on-line first. It's a kit I've had for a while, but forgot to review. Like most of Extratech's Shermans, it's not a bad kit, but it is lacking a few details.

The base kit is the same as Eduard's M4A3 Sherman:

A new sprue of parts is included for the Jumbo turret and additional armor plates: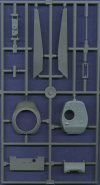 The turret looks pretty good, capturing well the bulky look of the uparmored turret walls. The plastic is very polished, and could use a little bit of cast-iron texture, but that's easy enough to add on your own. The same goes for the uparmored final drive housing (nose); it should have a pretty heavy cast iron texture as well. Unfortunately the loader's hatch is molded closed. Only a 75mm gun barrel is included in this kit. About 100 of the approximately 250 Jumbos that were built replaced the 75mm cannon with a 76mm cannon, so if you want to model that variant, you'll have to pick up a 76mm barrel elsewhere. Note that there is no smoke grenade launcher on the front left turret face.
The tracks included in this kit, although very nicely made, are completely inappropriate for Jumbo Shermans. All the photos I've seen of Jumbos show them to be equipped with T-48, rubber chevron track, and almost all had the duckbill, extended end connectors. Although the open-spoke wheels included in this kit are not very good, they are indeed the proper type most often seen on Jumbos. But the stamped, 6-spoke wheels were also used, as were the solid stamped wheels (but only rarely, such as on the French tank included in the kit markings). The builder should acquire some solid-plate sprocket wheels from elsewhere as well, as that is the most appropriate style of sprocket wheel for the Jumbo.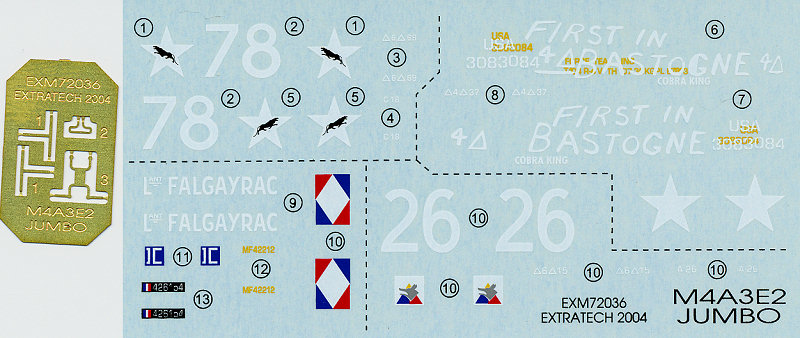 Markings are included for four Jumbos:
69th Tank Battalion, 6th Armored Division, Germany, March 1945; White 78 (may have been up-gunned to 76mm cannon)
15th Tank Battalion, 6th Armored Division, Germany, March 1945; White 26 (may have been up-gunned to 76mm cannon)
37th Tank Battalion, 4th Armored Division, Bastogne, Belgium, 1944; "FIRST IN BASTOGNE"
- Markings look pretty good to me. This vehicle mounted the high-capacity, closed-spoked road wheels and T48 rubber chevron tracks with EECs. The tank was upgunned to 76mm in March-April of '45, so it still had the 75mm gun during the Battle of the Bulge.
2ème Escadron, 2ème Régiment de Chasseurs d'Afrique, 6th Army Group, Alsace, 1945
- According to the book The French Shermans of the Liberation, the squadron markings aren't exactly right, but it's nothing I would bother changing. There are a couple of missing markings, specifically the quartermaster and bridging codes that go on the front and rear hull plates. This vehicle mounted the solid dish road wheels.
So, as you can see, this is a pretty decent kit and provides an excellent starting point for a Jumbo project. Extra parts from other kits and some scratch-building will be necessary to build a complete and accurate Jumbo Sherman.
For some really fascinating information on a restoration project underway at the Patton Museum, check out their restoration blog:
http://www.weaponsofwwii.com/forum/viewtopic.php?f=12&t=2756
---