ExtraTech
Firefly IC (17pdr)
Kit #72041
Article by Doug Chaltry; last updated 28 January 2008.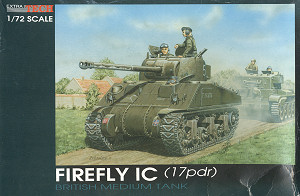 This kit shares most of its parts with the previously reviewed Extratech M4 Sherman kit. The majority of the Firefly kit, including the hull and running gear, are the same as that previous M4 kit, and I refer the viewer to that article for a description of those parts. The only plastic parts differentiating this kit from the M4 Early kit are the turret parts.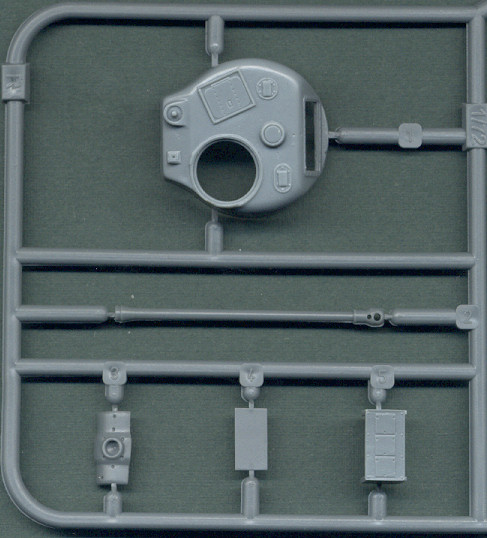 The turret is essentially the same as the turret included in the Extratech M4 kit, but with some minor changes. First of all, it comes with the 17pdr gun and mount, which are nicely done, though not as sharply detailed as some of the resin versions I have seen of this gun mount. The only change to the main turret piece itself is the addition of the loader's hatch, which unfortunately is molded closed.
It would have been nice if etched brass brush guards had been provided for the loader's and commander's periscopes, but as you can see in the scan below, they're lacking from this kit.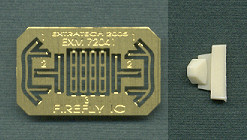 What this fret does include are brush guards for the head and tail lights, plus storage brackets for the hull front. A small resin piece is included for the armored cover fitted over the bow machinegun opening, since that gun was omitted in the Firefly conversion.
Markings are included for four Fireflies:
1st Czechoslovak Armored Battalion, 2nd Company, Dunkirk area, late 1944
2nd Polish Armored Brigade, 2nd Armored Division, Loreto, Italy, 1945; tank of Colonel Ant. Stachowski
C Squadron, 23rd Hussars, 29th Armored Brigade, 11th Armored Division, Putanges, France, August 1944
The Fort Gary Horse Laren, Netherlands, April 1945
Registration is pretty decent on most of the decals, though not perfect. Otherwise, they are very finely printed with bright colors, and opaque ink.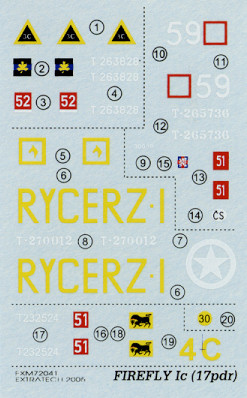 Unlike the previous Extratech Sherman kits, I don't believe that an ExtraPack version of this model has been released. Although I don't like the marketing scheme of releasing two versions of each model, I wish that if they were going to release only one version, it would have been the Extrapack version with a much more extensive photoetched fret, and perhaps additional resin details as well. As far as I know, there are no aftermarket brass detail sets for this kit, so we need to purchase sets designed for other Sherman variants to provide missing or additional detail to the kit.
Aside from that, I really like this kit, as it is the best Firefly IC available to us.
---