Exokit
Sherman M51
Kit #7224
Article by Doug Chaltry; last updated 18 November 2007.
This is my only Exokit vehicle kit, and I am both impressed and disappointed at the same time. The disappointment comes from the fact that Exokit based this kit on the very poor Revell (Matchbox/Mongram) M4A1 Sherman, and consequently, the dimensions of this model are all wrong. In addition to the hull and turret being too small, so too are the road wheels, a little bit. But they are closer to the correct size than the giant wheels in the Hasegawa HVSS kit. The wheels and tracks appear to be from a Fujimi 1/76th scale kit. This kit scales out much closer to 1/76th than 1/72nd, so those of you who prefer that scale should be very happy with this model.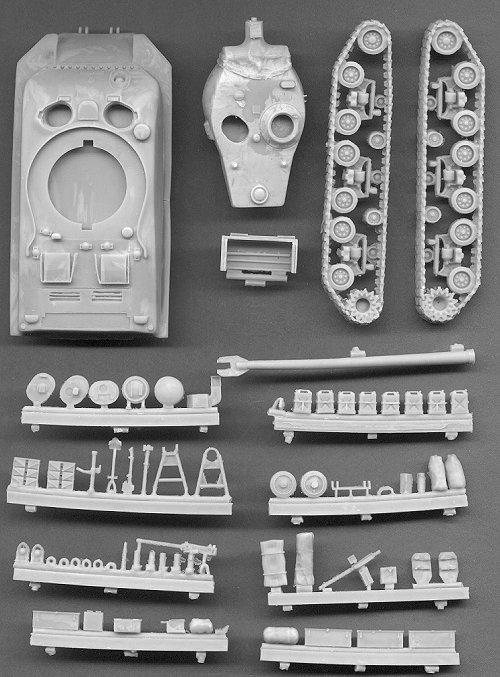 As far as the quality of the kit is concerned, the casting and molding, the detail, the optional parts, I am very impressed. The wheels and tracks are molded as a single piece for each side, but they are very detailed, and look good. There are numerous small parts, all molded very well and highly detailed. Options include open hatches, a couple of machineguns, storage boxes, separate pioneer tools, and a lot of hull stowage items. The only molding flaw in my sample is the gun barrel, which is warped in two different places.
---
Back to Israeli Sherman Kit List