The first problem with this model is the wrong turret. It must be a high bustle turret, but the kit turret is low bustle. So instead to correct the turret I opted to use a spare Esci turret. On the photos below one can see what was done.

The gun barrel must narrowed to be in a more acceptable shape.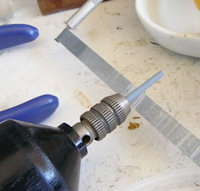 The suspension boogies are unnecessarily complex and need some improvements
The tracks are nicely molded and easy to install.

But the real problem is the location marks for the bogies on the lower hull. If one, as I do, use them to glue the suspension boogies this will lead to a wrong forward position. You can see on the next photo the suspension compared with the Sherman jumbo from FSF.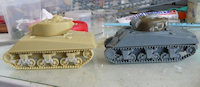 So the only option was to remove the bogies to reposition them, be advised.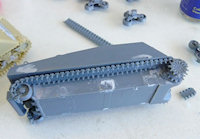 The engine exhaustion sits too low, so I used a spare resin piece.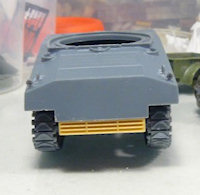 I used some fine cooper wire to do the handles and periscope protections.
The finish was done with white paint over a previous olive drab coat. After cured the white was brushed with a stiff brush and solvent to do the weathering.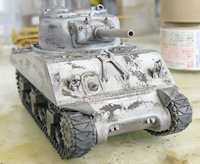 Final details were done with oil paints and pastel chalks.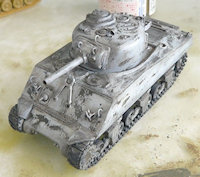 The cart came from Airfix M3 with some improvements
Conclusion
The kit has many problems and requires a lot of effort to correct them. With the Dragon model on the market one must pass this one.