ESCI
Sherman Rocket Launcher Calliope
ESCI Kit 8059; ESCI/Revell # H2360; ESCI/Ertl # 8313
Article by Doug Chaltry; last updated 31 October 2007.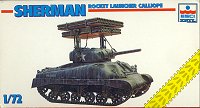 This kit is the same as the ESCI M4A1 kit, with an additional sprue of parts for the rocket launcher. Consequently, the same problems with the other kit hold true here as well, perhaps even more so. Even if the type of Sherman depicted in the other kit truly did exist, it probably was never mounted with the rocket launcher. I've seen photos of the launcher mounted on M4's, M4A3's, and early M4A1's. It would probably be OK to use it on this kit, if you added applique armor to the hull sides to make an accurate dry-stowage M4A1.
The rocket launcher consists of some very detailed mounting arms, and a multi-part bank of rocket tubes with open ends. The ESCI/Ertl release comes with the hard tracks pictured below. The earlier releases have the single piece, soft plastic tracks, which are very poor.
The decals in this version of the kit by ESCI/Ertl, are very thin. Although the scan is poor, there are several stars, serial numbers, and a couple of slogans. The decal options vary depending upon which company released the kit.
---