Dragon's latest Sherman kits are getting easier to preview, since they seem to be mostly collections of sprues from other kits. This kit here actually has as many spare parts not used as used. Not that it's a bad thing, but Dragon does seem to be inconsistent in how they include spare parts, as we'll see.

The following sprues have all been included in previous kits:

As mentioned, many of these parts are not used, but the instructions are quite clear in which ones to use and which ones not. The turret is low bustle without the loader's hatch, which appears to be correct for all three marking options included in the kit. Wheels are the stamped variety (of course), and although we are to use the sharp-nose final drive housing for these marking schemes, the three-part nose piece is also included as a spare, which is cool.

The following parts are new, or at least mostly new. Actually, now that I think about it, only the hull is new. The sprue on the right was originally included in the Firefly kit, but for this M4 kit, Dragon decided to clip off the turret upper half that was originally on this sprue. Why they would do such a thing is really beyond me, considering all of the other spare parts they've left in this kit.

This is the second early M4 hull that Dragon has given us, the first coming with their Firefly IC kit. Although this hull is very nice, as usual, it is disappointing that the engine deck has been modified to attach the deep wading kit, thereby requiring us to do some major surgery if we want to build this kit as a Sherman without the stacks. I assume that someday Dragon will release a standard M4 kit, but until then, we are restricted to either converting this hull piece, or using the hull in the Firefly kit.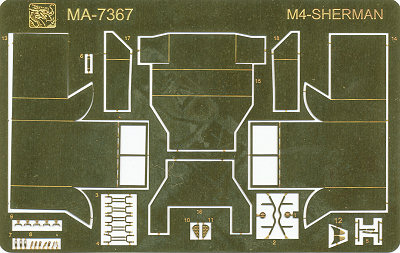 The etched parts are very nice, as is typical, and includes the normal hull details, as well as the wading stacks. I've not seen these stacks built yet, but I have read that the lower portion of the rear stack, where it connects to the rear hull, isn't shaped exactly correct. I don't really understand Dragon's reasoning for making these parts out of photoetch, as they would have been much easier to use (and modify) had they been molded in plastic.
The kit includes T-48 rubber chevron tracks: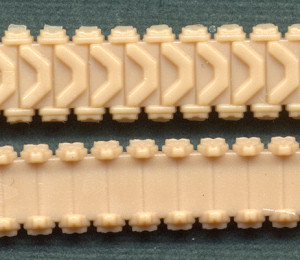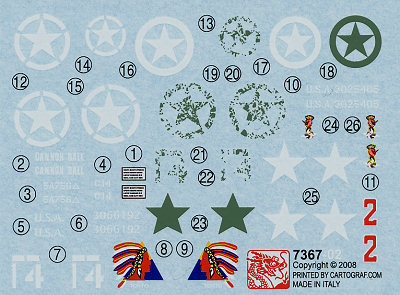 Markings are included for three vehicles:
"Cannon Ball" Company C, 70th Tank Battalion, Utah Beach, Normandy, D-Day 1944
"White 14" Company C, 756th Tank Battalion, Monte Cassino, Italy, 1944
"Tonto" 37th Tank Battalion, 4th Armored Division, Brittany, France, 1944
The decals are produced to Dragon's typically very high standard. A quick perusal of my references shows the markings to be mostly accurate, as far as I can tell. I've not seen any photos of Tonto or White 14 with wading stacks, and if White 14 DID have wading stacks, they probably would have been a different style than those included in this kit, as the type used in Italy was slightly different than the stacks used at Normandy.
Overall this is a very nice addition to Dragon's Sherman collection. Much better than the UM offering.
---