Just a few shots of Dragon's M4A1 Sherman #7273. At this stage its ready to be airbrushed.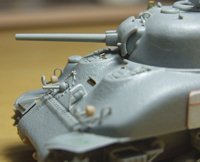 Dragon has done a pretty good job with this effort and as usual you get a lot of extras not required for this version.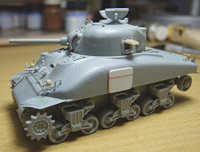 A photo etch brass fret is included, however many might be intimidated by the minute size of some of these details. I am pretty good at manipulating even the smallest of parts however some of smaller pieces even gave me problems.
On this version of Sherman you have the option of mounting the horn on the front left fender or in the earlier position just off center on the glacis plate. I chose the latter and the photo etch horn guard supplied by Dragon was pretty useless. Damage occurred just trying to remove it from the brass fret. I fashioned one from strip styrene.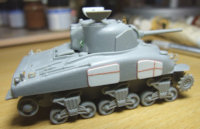 I also replaced the kit applique armor with styrene sheet with the welds reproduced from styrene poly rod and liquid glue to achieve the weld marks. I also replaced the kit rear hull lift hooks as well as the front headlights.
The turret shell ejection hatch on the port side of the turret was replaced by one from an old ECSI kit simply because I lost the original kit part somewhere in the "carpet monster".
The photo etch Cullin hedgerow cutter or rhinoceros is a gem and went together without any problems.
All in all, a good build representing one of my favorite Shermans.
---