CPL Overby's Motorpool
M50 Israeli Sherman (late model)
Kit #MP049
Article by Doug Chaltry; last updated 13 January 2008.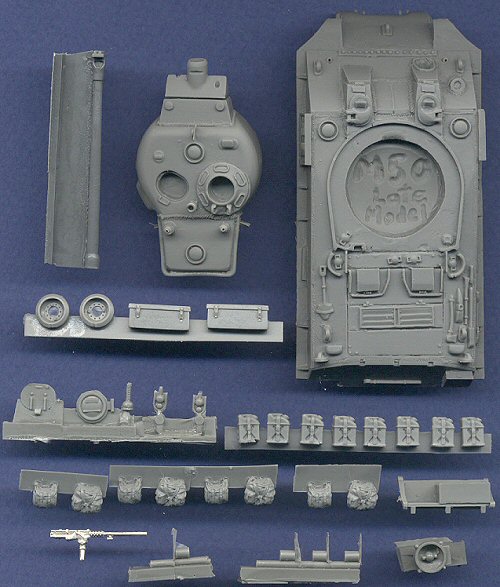 Note: The kit in this Preview is an old version. This kit has recently been remastered using a Dragon Sherman kit as the base model and is meant to convert a Dragon kit to the M50 version.
Currently, CPL Overby has two M50 kits in his catalog, this one and kit #MP043, which is a complete kit of the early model M50 with VVSS and the original engine deck. Th kit reviewed here differs from that previous kit in two distinct ways: 1) is represents the late model of the tank with HVSS and the Cummings engine, and 2) it is not a complete kit, and requires the suspension parts from a HVSS donor kit. It was designed to be used with the Hasegawa M4A3E8 because that was the only HVSS kit available at the time, but it is likely that it would work with any of the newer, and far nicer HVSS kits currently on the market.
The hull appears to have been originally based on an ESCI M4A3 Sherman hull, but very heavily modified, especially the front hull. It is a welded-hull version of the Sherman, meaning it was originally either an M4, M4A2 or M4A3. It is far too short to have been based on an M4A4. The engine has been replaced with the Cummings diesel, making it difficult to determine the original version of this tank. Since the rear hull of the ESCI M4A3 was incorrectly shaped, that doesn't help much, but it is likely that it best matches a converted M4A3.
The pioneer tools are molded onto the hull, with fairly decent relief, though I will likely replace them anyway (I'm very picky about that). All lift rings are molded open, which is pretty impressive for a resin kit, though the crew hatches are closed, and are in fact, sitting on top of the crew's armored hoods, when they should be sitting flush with the armored plates when closed. Spare track links are molded onto the hull sides, and additional stowage (spare wheels, tool boxes, fuel cans, bags and packs) are provided as separate parts. Headlights are separate parts too, although they would benefit from being replaced by new lights with etched brass brush guards.
The turret is a modified 75mm M4 turret from the ESCI kit. The gun mount has been modfied, as has the rear bustle. The hand-hold around the bustle is molded on, though it's a little heavy. Both crew hatches are molded open. Smoke grenade launchers are provided as separate parts, and a very nice .50cal machinegun (cast in silver) is also included. A gun travel lock should probably have been included for mounting on the engine deck but wasn't, so we'll have to fabricate one of our own.
The casting of this kit was very well done, with very few holes in the resin, all of which are easily fixed. Although the detail on the hull is pretty decent, it is obviously hand-made with some rough corners and uneven lines. Creative placement of stowage items such as boxes or fuel cans could cover up any of these features. Overall, I think this is a nice addition to CPL Overby's ever-expanding line of Sherman kits.
Thank you to CPL Overby for providing the review sample.
---