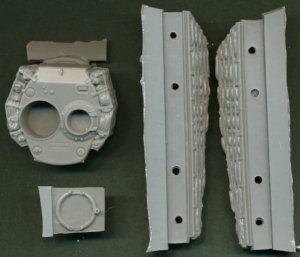 Dave Showell recently previewed this set for On The Way, and I recommend everyone go read that review. He has a lot of good information there, and his photos are much better than mine. But there is one thing I'd like to clear up; Dave mentions a small square piece of resin of unknown use. This is actually just a piece of resin plug, which should have had two small resin pieces attached to it (you can see one of them in Dave's photo). These small pieces were supposed to replace the metal .50cal MG storage brackets for the rear corners of the turret. I suspect that Black Dog decided to ditch those parts, because my kit didn't come with them, and the photos of this set at the Black Dog website doesn't even show them. Oh well.
I can confirm Dave's assertion of the high casting quality of the resin. It's up to the same standards as Calibre72 and other top resin companies. But it is disappointing to not have the sandbags for the hull front.
One other odd thing: this set is labeled as for use with a Dragon Sherman kit, yet the photo on the box top shows the resin parts mounted on a Trumpeter Sherman kit. So I assume that it will work equally well for Trumpter kits too, which would make sense, because they used a Trumpeter turret for this conversion, with its far-too-large hatch openings. That was unfortunate because these hatch openings truly are ridiculously large.
---
Back to Sherman Accessories List