Al.By
M10
built by Augusto Versiani
augusto.versiani(at)gmail(dot)com
18 March 2008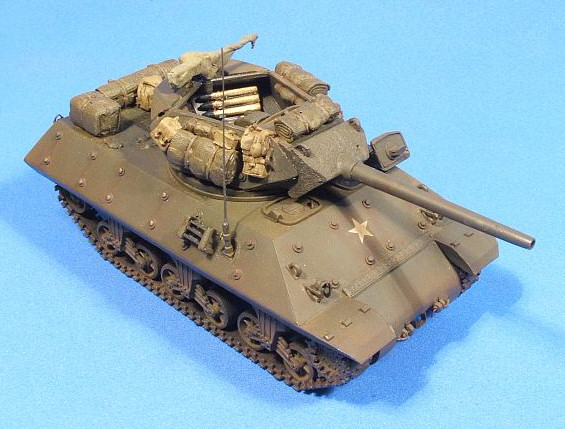 This is an Al.By M10A1 conversion to be used with the Italeri (ESCI) Sherman M4A1. The parts are very well cast, bubble free and with crisp details. The only problem (for me) was that the M10A1 saw (as far as I know) no combat service, so I made some changes to make the M10.
The fitting between resin and plastic parts is fine with no real problems. To do an M10 the changes were:
Used the Italeri/Esci rear plate instead of the one provided with Al BY set
I substitute the engine cover for the one that came from the Extratech Achilles spare hull
Scratch new exhaust muffler.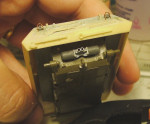 The Italeri parts need some work, you have some mold lines in the wheels and the sprocket axle is too short and needs some complement, but the main problem was that the tracks were too short. I don't know if I lost some parts but I needed 4 track links to close it.
The gun barrel was warped and I solved it with hot water. The other improvements were:
Added some detail to the gun breech with copper wire
Made new protections for the lights with copper wire bent to shape
Used various accessories from Mars
The finish was made with Tamiya acrylic paints, and some oil paints to add aging and tone variations. Finally some pastel chalk to dust.
Conclusion
Very nice conversion, simple and easy to do even for one with no previous experience with resin parts. The only drawback is the version chosen by Al By. But as the motor cover was a separate part I suspect that an M10 kit does exist.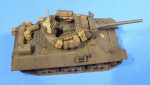 ---