About Me and This Site

Why develop a website about modeling the Sherman tank in 1/72nd scale?

As I stated in the opening paragraph of the Introduction: "The M4 Sherman tank was the most important tank in the US inventory during World War II ... Given the importance of this vehicle, one would think that it would be one of the most popular subjects for model builders, but that is far from being true."

That is why.

For far too long, World War II German subjects have dominated the small scale armor modeling industry (and all other scales for that matter), and I want to help generate more interest in modeling something other than another panzer. The Sherman tank was built in greater numbers than all German panzers combined, and due to its significant contribution to the war effort, I feel that it deserves far more attention amongst model builders than it currently receives. (And if you think that the situation is bad for Sherman enthusiasts, those interested in British armor subjects are in even worse condition...) But let me clarify: I have nothing against building German models subjects, and I don't want to piss off all of you German enthusiasts out there. I just want to bring a little balance to hobby, that's all.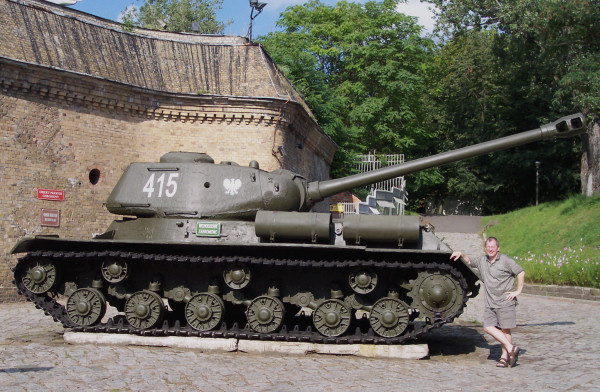 For those of you who don't know me, my name is Doug Chaltry, and back in 1999 I started a website called On The Way! devoted to modeling 1/72nd scale ground vehicles and equipment. I eventually burned out on website development and modeling in general, and turned over the site to the capable hands of Simon Barnes, and the site is still one of the leading model review websites in the world for our scale.
One of the articles that I had written many years ago for On The Way! was called The Sherman Story, and it documented the state of affairs for modeling the Sherman tank in 1/72nd scale at that time (which was pretty bad). Since my enthusiasm for model building has started to return lately, in particular my interest in the Sherman tank, I decided that it was high time to revise The Sherman Story. The Sherman tank has undergone a renaissance in 1/72nd scale since I originally wrote that article, and I feel that there is a need for a comprehensive catalog and reference source for modelers interested in building kits of this most interesting and unappreciated modeling subject.
I originally intended on this being simply a small, updated article that I could submit to Simon to replace the out-of-date article currently at On The Way!. However, once I started outlining how I wanted the article to appear, and the vast quantity of information that I wanted to include, it quickly became obvious that this wouldn't be just another short article. Given my desire to be able to promptly and regularly update the article when new kits are released or new information comes my way, I made the decision that it would be far more logical to turn this article into a completely new website to which I would have unrestrained access. This is in no way a reflection of the On The Way! site, and I certainly hope that our two sites will complement each other and provide modelers with an over-abundance of Sherman-related modeling information. (Note that the only information that is duplicated between the two sites are reviews that I originally wrote. I consider all other reviews and Gallery entries that were contributed by others to On The Way! to be the sole property of those authors and On The Way! and I have not included that material here.)
Notes About the Kit Lists
I have graded each item on the kit lists with a simple star system of 1 to 5 stars, 5 being the best. This is a completely arbitrary grading, and I fully expect that each viewer to this site probably will disagree with many of my grades. But I had to start somewhere. Things that I considered when grading items were scale and historical accuracy, amount and quality of detail, completeness of kit, and in the case of kits I've built, ease of assembly. Of course this is a relative scale, where kits are evaluated against each other. So kits that I may have considered to be pretty decent three years ago, may have now received a rather poor grade, considering all of the high quality kits that have been released over the past year or two.
There are links in the kit lists to either Previews or Reviews. A Preview is what others call an in-box review, or first look review. Previews will contain comments and evaluations of kit accuracy, detail, etc. What I call a Review is an actual construction review, and will contain all of the same information, as well as comments on the kit assembly.
Contacting Me
I recognize that I am not a Sherman expert and I am bound to make many errors and omissions on these pages. I encourage viewers to contact me when they find something incorrect or lacking on this site, and I will correct, add or delete the information as the case may be, if I feel it's warranted. I ask that you please include a citation to your references so that I can double-check your information. Thanks. Unless, of course, you're Steve Zaloga, in which case I'll just take your word for it :-)
I can be reached at:
before the [at] sign: doug_shermans
after the [at] sign: 172shermans [d0t] c0m
Contributions
For those of you who wish to send in contributions to the Gallery or Construction Reviews, please review the Guidelines for Contributors and then send your material to the above email address.
---