Markings for 1/72nd Scale Sherman Models
Article by Doug Chaltry; last updated 31 October 2016.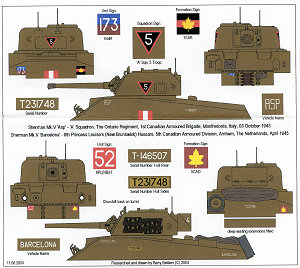 Wow - What a Project
I actually thought this would be a fairly simple task: to catalog all the marking options for Shermans in this scale, and put them in a single table. I started with the decal sets by ARMO, and slowly added more and more as I found them, and soon became aware what a daunting task this really was. But it was too late to stop, so here I present to you the fruits of my labor.
These are tables showing most of the marking options that we have, or had, available to us, either with kit decals or aftermarket marking sets. I am missing only a couple of available kits:
the newest UM kits
specific listing of the marking choices in the now out-of-print Quartermaster Decals sets
I've broken the list down into separate pages for different nationalities to make them more manageable.
Please note: in some cases, the unit information shown on these tables may differ from what is shown in the instructions (and the individual links) for some specific markings. This is due to my making corrections based on further research, and the information on these tables is [theoretically] more accurate.
The Fine Print:
The tables show markings from all kits and aftermarket decal sets. Some of these may be out of production or print. The Parent Unit/Unit/Sub-Unit split has been somewhat arbitrary, in that not all references give complete, hierarchical unit information. For the most part I tried to be consistent with my splits amongst all the national markings tables, but there may be some unavoidable inconsistencies due to my lack of reference material, and by limiting myself to only three levels of unit description. In cases where it was possible, I have corrected or expounded upon the unit information that was included with the source of the markings, if warranted.
If any viewer finds errors in these tables (either errors I made, or errors in the markings themselves), please let me know: dougc (at) 172shermans (dot) com.
A sincere Thank You to the additional contributors to these lists:
Loren Pike
Kaya Saydas
Filipe Cunha
Dave Showell
Andrew Bunney
Tomas Jakl
Paul "Tanks" James
---