Building a Second Generation M4A1 Sherman
Article by Stephen "Tank Wisperer" Brezinski
sbrez(at)suscom-maine(dot)net
last updated 26 April 2008.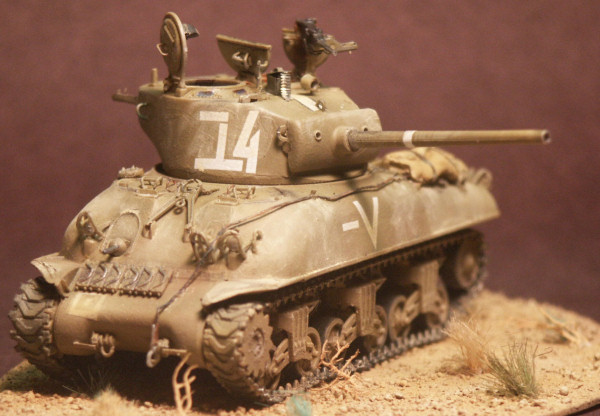 Introduction And a Note on Nomenclature & M4A1 Vehicle History
According to my references, Sherman is a name bestowed upon the American M4 series of medium tanks by the British upon their introduction and combat in North Africa during 1942. The first M4 version produced was the M4A1 with a cast hull, followed by the welded-hull M4A2 and then the welded-hull M4. Besides having either a cast hull or welded hull or composite welded hull & cast bow, the primary differences between the variants was in the engine which was reflected with different engine decks and exhausts. The M4A1, which is the subject of this review, as well as the M4 tanks were both powered by the Continental radial air-cooled gasoline engine borrowed from the aircraft industry. I understand that the diameter of this radial engine is the major reason the tank has such a high profile. In early 1944, the US Army began to upgrade the original 75-mm M4A1 with a new larger T-23 turret and 76-mm M1A1 higher velocity gun of 52-calibers.
Up until late 1944, M4 variants all had a Vertical Volute Spring Suspension [VVSS], similar to that on the M3 medium tanks. In late 1944 the Horizontal Volute Spring Suspension [HVSS] was introduced offering a wider track with less ground pressure and better flotation.
This construction review covers several 1/72-scale styrene plastic kits of the medium tank M4A1(76)W VVSS. The W indicates wet, water-filled, ammunition bins that were supposed to reduce the chance of an ammunition fire. Since most, perhaps all, 76-mm gun armed M4's had wet stowage, the wet-stowage appears to be assumed by many writers and modelers and the W is often dropped. Most all 76-mm armed Shermans are also what are called 'big-hatched' M4's, meaning that the front hulls have the 47 degree glacis and large driver and assistant-driver hatches. I say 'most all 76-mm armed Shermans' because a number of original Shermans with the 56 degree glacis, smaller turret and small driver hatches were upgraded after WW2 with the 76-mm M1A1 gun.
You'll notice that in the review we have no scans or photos of the kit sprues and individual parts. This is intended to be a construction review of three similar subjects. At several websites we can find good in-the-box reviews of these kits that fulfill that need.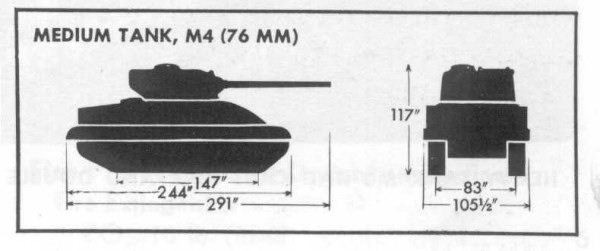 From a US Government publication, this drawing gives us a reference to judge our M4A1(76) VVSS, 76-mm M1A1 gun armed, Sherman kits against. When comparing Sherman kits divide the inches by 72 for the 1/72 scale equivalent. Differences in vehicle lengths in different references may be partly due to the presence of fenders and sand skirts or not. My references note minor differences in length of the M4A1, M4 and M4A2 hulls. All appear to have a hull width of 103 inches. Note that the Shermans fitted with the Horizontal Volute Spring Suspension [HVSS] would be wider; and Shermans fitted with a muzzle break on the 76-mm gun would be slightly longer.
The Kits
Covered in this review is the now old Revell interpretation of the M4A1 [a.k.a. Matchbox kit #40181,Revell AG #03102; or Monogram #2321]; then Trumpeter's Model's new M4A1 kit #7222; and last a conversion using ESCI's [Italeri's] late M4A1 hull and the LEVA Productions resin T-23 turret. Scans of the kit sprues can be seen already at other websites so I will not include them here.
Alas, I assembled my models and wrote the bulk of this review just prior to the release of Dragon Model's M4A1(76) kit so was not able to build it with the others.
One may ask, "why would I wish to build an obviously poor model [such as the Revell or the LEVA turret] when there are much more accurate kits available. My answer is that I personally enjoy seeing how well I can improve upon an item with a problem. I also do not wish to relegate a kit to the dustbin that I spent good money on. At the time the Revell and the LEVA items were released, they were the only M4A1(76) tank items commonly available.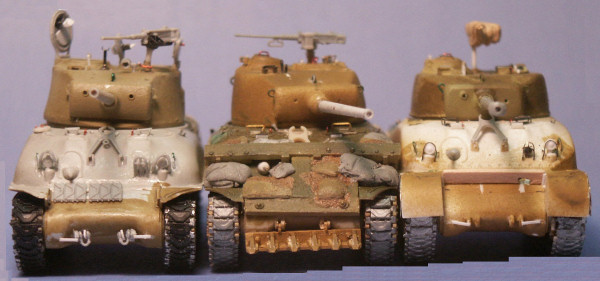 The photo above shows the front of all three kits side by side. All three are fully assembled but only partially painted. At far left is the Trumpeter model being built as an Israeli Sherman with features of a mid-World War 2 M4A1(76) used by Israel circa 1961. In the center is the ESCI M4A1 hull topped off by the Revell kit'sT-23 turret being modeled as an initial production M4A1(76) serving in Normandy, 1944. The Revell turret was used on the ESCI hull in order to have an initial production T23 turret, On its bow is sandbag armor and a slightly crooked Cullin hedgerow cutter produced by LEVA Productions in resin.
At far right is the Revell M4A1(76) with the late war features of a muzzle break on its 76-mm gun and an oval loader's hatch. The LEVA turret has great surface texture and details but is noticeably and inaccurately lower than the Revell and the Trumpeter T-23 turrets. This LEVA Productions squat turret is fine for wargaming perhaps, but looks too odd to me for a fine display model.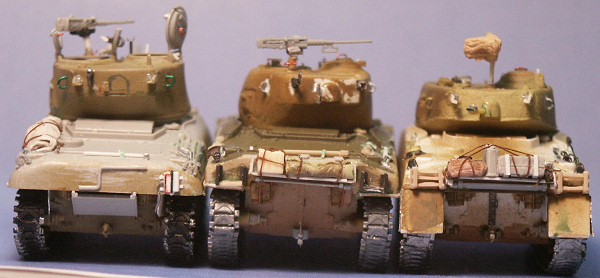 The stern of the three models with the Trumpeter kit at far left. Note that ESCI's and Revell's stern have a raised cutout, or notch, in the upper hull rear exposing more of the rear engine doors. This difference is discussed more later in this article. As a late M4A1 the Trumpeter model has a scratchbuilt telephone box on the right rear but also note that Trumpeter's T-23 turret has no ventilator on its rear, particular to the initial T23 turrets. The model does have what appears to be an additional exterior cooling unit on the hull rear. The lift rings on all turrets and hulls were replaced by copper wire. The ESCI and the Revell models have spare parts stolen from Trumpeter and Dragon kits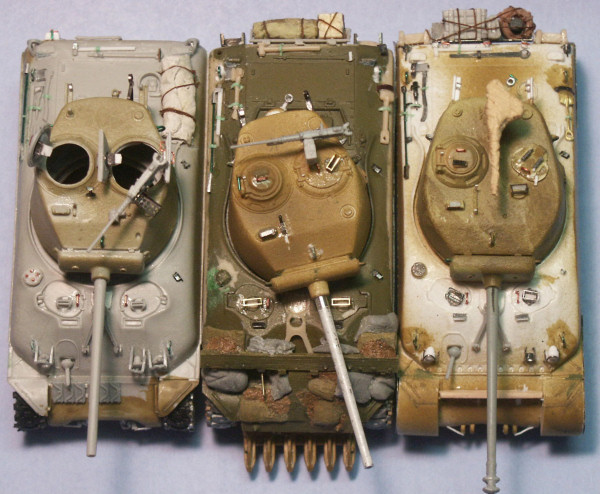 Going from left to right be the light gray Trumpeter model, the ESCI hull & Revell turret in the center, and the white Revell hull with the LEVA Productions resin cast turret at far right. All three kits are roughly about the same length, which is nice to see, except Revell's hull which appears too narrow and a smidgen short. The driver and co-driver hatches on the ESCI and Revell hulls can be modeled open, Trumpeter's hull hatches are molded shut. Trumpeter's kit got spare plastic periscope guards from Dragon's M4 kits; while ESCI and Revell got etched brass periscope guards from Eduard and Extra Tech etched brass frets.
All three models had the forward ventilation dome just aft of the co-driver's hatch fixed. Trumpeter's and Revell's vent domes were shaved off and raised so there is a gap underneath. ESCI's vent is odd in that it is recessed below the top of the hull, which I have never seen in photos of a real M4A1. The recess in the model's hull was filled in with modeling putty and the rather small ventilation dome rebuilt a little more accurately.
All three hulls and the two styrene turrets were all roughed up a tad to represent a cast steel texture by coating them in slow drying liquid cement and then stippled with a stiff toothbrush, then allowed to dry. In the above scan we can see that Trumpeter's turret hatches are oddly much larger than they should be, a surprising mistake to make. The rolled-up tarp on the left rear hull of the Trumpeter kit was used to cover up a poor molded-on shovel.
The Revell & Leva Productions Conversion
When the Revell kit was released in the mid 1990's I had greatly welcomed it since ESCI had just gone out of production and it was the only 1/72 scale Sherman on the market and different from the ESCI M4(75), and the world of resin models was still in its infancy. This M4A1 was initially released under the Monogram and the Matchbox labels, under license to Revell AG. The Revel M4A1 kit in this review is the Matchbox kit #40181 and was molded in white styrene. Compared to the ARMO, MR Models, Dragon and Trumpeter Sherman kits; the Revell kit is very 'accuracy-challenged' to be nice, even by 1995 standards. The Revell M4A1 tracks have no guide teeth around the idler, the roadwheels are too large, the main gun (part 5) has a fictitious long raised ring at its base, and features like the headlights and tools are simplified. The overall shape is off but not too bad though [my personal opinion]. Fortunately Eduard produces a very helpful etched brass fret for the Revell M4A1, with parts to also greatly help the ESCI and the Trumpeter Sherman models.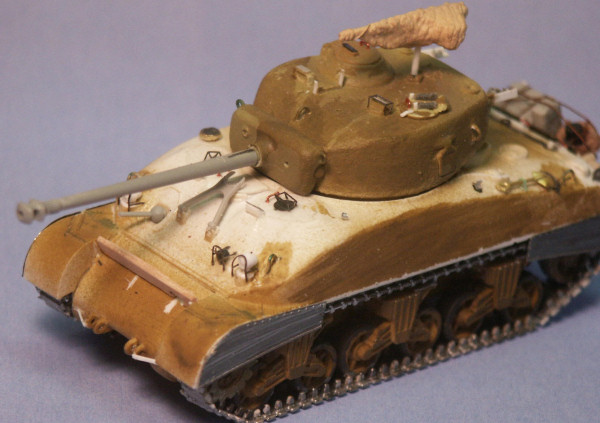 My interpretation of the Revell M4A1(75) with many of the actual Revell parts replaced. The turret is a resin-replacement T23(76) turret from LEVA originally made for the ESCI M4A1. Turret cast texture and casting seams are very nice though a bit overstated, but the turret height is noticeably way too low which makes the model look odd; the loader's hatch is also raised where it should be flush with the turret roof. The canvas covered 50-cal. AA mg is also from LEVA. The gun travel lock is front the ESCI M4A1. The headlight and the periscope guards, and the sections of the track skirts are Eduard's etched brass. The 76-mm long main gun and hull mg are spare Trumpeter and Dragon Models parts.
Among Revell's problems is that the roadwheels (parts 11) are too big. I could have substituted better wheels or suspensions but chose to use the kit VVSS suspension since because of the hull and turret shape problems the kit would never be good enough for an award anyway.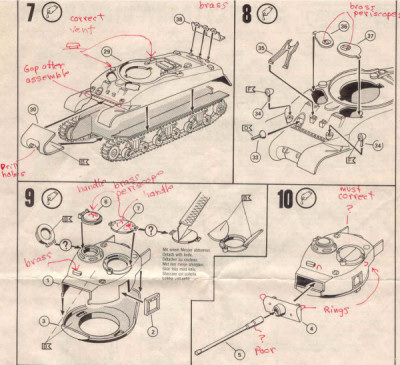 Revell's exploded-view kit instructions are good and come in 12 steps. Water slide decals are for one tank of the 40th Tank Battalion, 7th US Army, 1945.
The Eduard Etched Brass Detail Set #22 014 for the Revell kit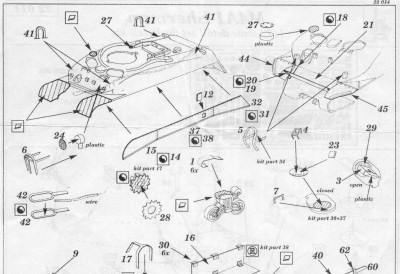 This etched brass set was released in 1995 for the then new Revell M4A1 kit and corrects or improves many of Revell's inadequate parts. Parts included are track skids, headlight & periscope guards, 50-cal. ammunition box & storage brackets, tool brackets, and new fenders, etc. Also included are flat brass handtools that I do not recommend using. This set should help with Trumpeter's and ESCI's kit as well.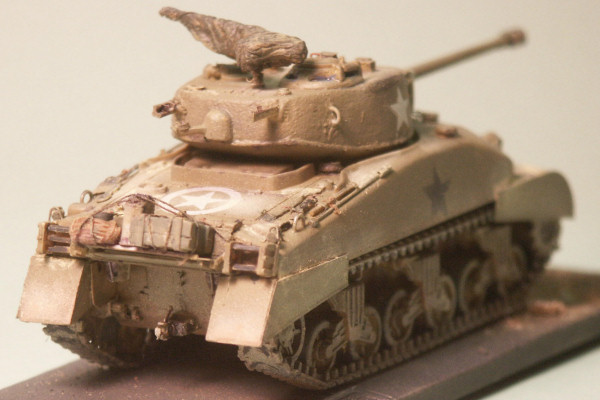 The Revell model with LEVA turret represents a late-war M4A1(76) with muzzle break, delivered to the US Army towards the end of WW2. Many parts of this model have been scratchbuilt-detailed or taken from Dragon M4 kits: such as the airfilters, some handtools, spare track blocks, stowage, towing hitch and machine gun brackets on the turret rear. Unfortunately some basic parts like the tow hitch are missing from Revell's model.
ESCI-Italeri M4A1 with Revell Turret kitbash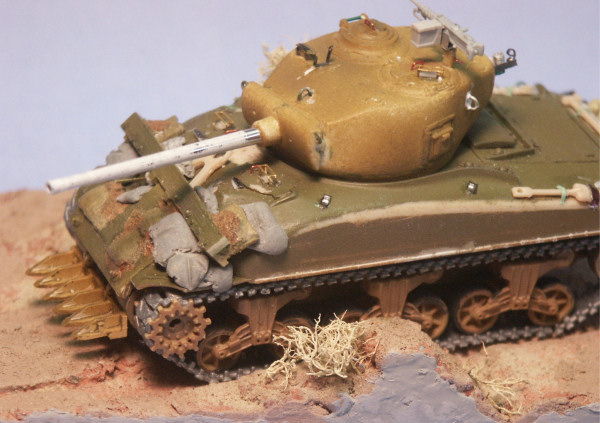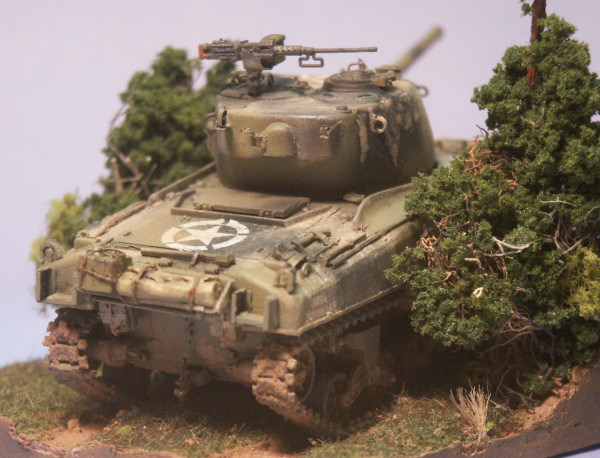 The ESCI [Italeri] M4A1 model as sold is a rare 75-mm armed 'big-hatch' Sherman. "Big hatch" refers to the larger driver and co-driver hatches. Few of these big-hatch M4A1's were built with the 75-mm armed turret and it appears that most of those were used as amphibious Duplex Drive tanks [Those larger hatches must have been attractive for a quicker escape if the DD tank should sink?] The ESCI hull makes a more common 76-mm armed tank and is also dressed up with hatch handles made from copper wire, etched-brass periscope guards, and scratch tow-cable guides. The Revell turret was used with my ESCI hull since it has the earlier turret hatch configuration. The Revell turret has been improved with a turned aluminum gun barrel, wire lift rings, hatch handles and a turned-aluminum gun barrel, and etched brass parts. One thing that ESCI's engine deck is missing is an additional fuel cap on the engine deck. I have seen at least one plan also missing this fuel cap so I am not greatly concerned over it not being there.
The top edge of the ESCI hull was softened with a sanding stick, as the M4A1 hull appears more rounded in the plans and photos I have. On the nose is a timber & sandbag supplemental armor, and the hedgerow cutter, both resin parts formerly available from LEVA. The sandbag armor is somewhat fictitious and enhanced with additional sandbags made from epoxy putty. Link & length ESCI tracks were used rather than the horrible ESCI polyethylene band tracks.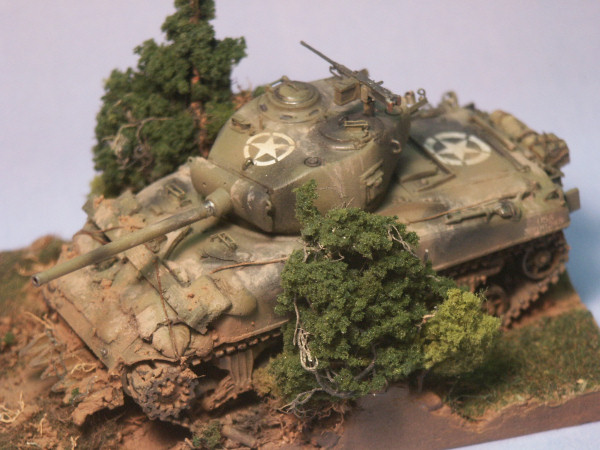 The ESCI hull with Revell turret in what I wished to be a dramatic scene of a US Army Sherman penetrating the Normandy bocage during Operation Cobra. The tank is finished in Model Master olive drab and Poly-S grimy black acrylic paint. To avoid having to cover much of the model's bow in freshly ripped up vegetation, roots and upturned earth I opted to model it as the second vehicle coming thru the penetration. A few infantry figures will eventually be added.
Trumpeter M4A1 kit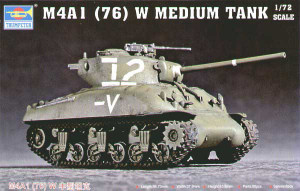 Trumpeter's box art is unique in showing a photo of the assembled and painted model.
The Trumpeter M4A1 model is largely built out of the box and with a few aftermarket or scratchbuilt details compared to the other two models. Trumpeter's hull is notably more rounded than the other cast hull kits. The tools were molded onto the hull, which I did not like; several tools were therefore cut off and replaced. Braces were added to the front fenders. A hull ventilator was added between the driver and co-driver hatches, and details added to the exterior and interior of the open hatches. The solid molded-in hull lifting rings have been shaved off but not yet replaced with copper wire. Spare tracks were added to the hull nose as on the Israeli Sherman depicted in Zaloga's reference book but not noted on Trumpeter's box art. What cannot be seen are five big recessed locator marks on each side of the lower hull that are actually drawn into the assembly drawings [see below scan]. These are locating marks for the HVSS suspension available in a different kit. Please fill these in. Trumpeter's band tracks worked well and I think look good.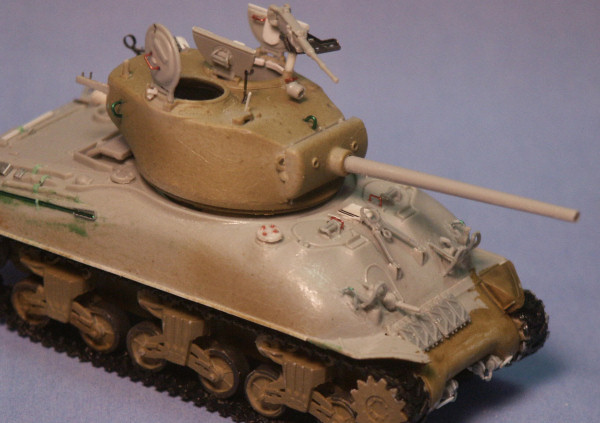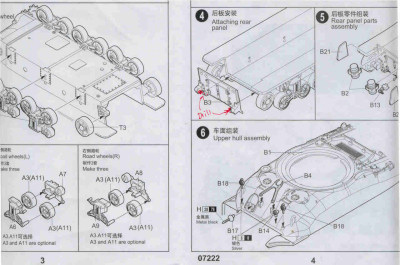 Trumpeter's exploded-view assembly instructions are decent and on par with others. One thing interesting and distinct with trumpeter's M4 models is the inclusion of a choice of either four one-piece simplified bogies, or four detailed 4-part wheel/bogie assemblies. This leaves us something to replace Revell's oversize roadwheels?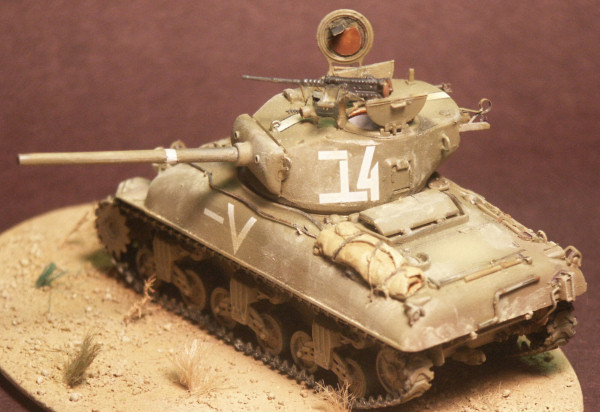 The competed Trumpeter M4A1 built as an Israeli M1 as seen during maneuvers in 1961; painted and detailed according to photos in Concord's Tank Battles of The Mid-East Wars. Overall I am very happy with the finished model and I like the Trumpeter kit, despite the turret hatches being too large. While most M4A1 hulls I have seen have a notch on the hull stern exposing more of the rear doors, Trumpeter's stern goes straight across from the left to the right sides. This difference is better seen in Photo 4 above showing the rear of all three Sherman models next to each other. I have only seen several photos of this hull rear and have no pertinent information as to when it was introduced and why.
At this time the model still awaits several crew figures. The Trumpeter decals applied well and disappeared well over a gloss coat. A white stripe on the turret roof was not included in the kit decals and added from my box of spare markings. Trumpeter includes water-slide decal markings for two post-WW2 Israeli Shermans, and for one US Army M4A1, unfortunately there is instruction for only one M4A1, an Israeli tank.
The Dragon M4A1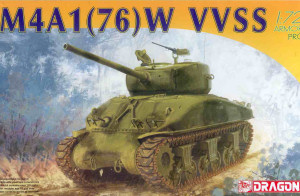 Dragon's boxart is decent and adequately shows a vehicle of the US 2nd Armored Division, without muzzle break and in its natural setting in France, 1944.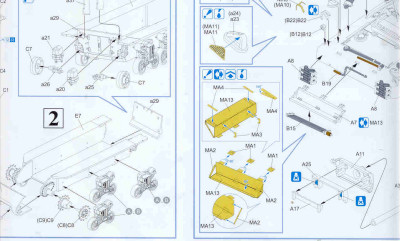 Dragon's exploded-view instructions appear good and have additional color blue and yellow colors to help make assembly more clear. The gold color denotes the etched brass parts included within [rear stowage racks, light guards, etc.; but alas no periscope guards which Dragon does in too-thick styrene]. While Dragon's M4A1(75) kit included two sets of tracks, this model only has one set of one-piece band tracks. Dragon includes many unused parts, which can be used to improve the ESCI, Trumpeter and Revell M4 kits. Water slide decals and good placement instructions for five different tanks are included.
Conclusions
In the box, unassembled, the Dragon kit appears to be best of the lot for a display model as far as detail, number of parts and overall accuracy. My next favorite is the Trumpeter model that was a pleasure to build and I think looks great despite the annoying turret hatch problem. My personal observation is that Trumpeter has a bad habit of perhaps rushing models into production without proper research and measuring. Or perhaps they can not decide on which market Trumpeter wishes to serve: the display modeler or the wargaming modeler? So they make careless compromises or mistakes. The Trumpeter M4A1 is my pick for a good wargaming kit, followed by Revell and the ESCI-Italeri M4A1.
Regarding the tracks, more venomous words in Braille Scale seem to be over flexible band tracks versus link and length tracks. My findings is that it depends more on how well the kit tracks are designed and rendered rather than whether they are band or individual links. True, in 1/35-scale I have never seen a band track look as good as a well-done individual link track, but not so in 1/76 or 1/72. Trumpeter and Dragon 1/72 band Sherman tracks look great and glue down well to the wheels. ESCI old band tracks are of stiff polyethylene and are difficult to work with and resist most glue known to modelers. Hasegawa band tracks typically lack detail but are better to work with. The Revell & ESCI link & length tracks don't have the other's accurate detail and the bane of link & length tracks is trying to get them straight.
References
M4 SHERMAN AT WAR, by Michael Green & James D Brown, Zenith Press [2007]. An excellent softcover book covering the evolution of the M4, a mechanical description, and with color photos, interior photos, historical photos and line drawings.
M4 (76mm) Sherman Medium Tank 1943-65, by Steven Zaloga & Jim Laurier, New Vanguard 74, Osprey Publishing [2003]. A good inexpensive softcover book covering the history and use of the 76-mm gun armed Sherman, a series noted for their great color plates.
Sherman In Action, by Culver & Greer, Squadron/Signal Publications ARMOR No. 16 [1977]. A good, inexpensive softcover book in the noted book series geared to the modeler. Highly recommended, but unfortunately completely leaves out coverage of the M4A2 and M4A4.
TANK BATTLES OF THE MID-EAST WARS (1) 1948-1973, by Steven Zaloga, Concord Publications [1996]. A good softcover publication with many b & w photos, color plates, and extensive captions and text.
http://www.172shermans.com/sherman_M4A1_list.htm Link to Doug Chaltry's fine in-box review of the Revell M4A1 and other current M4A1 model kits.
---