M4A3 (76)W
built by Mark Deliduka
mark(at)deliduka(dot)com
28 May 2008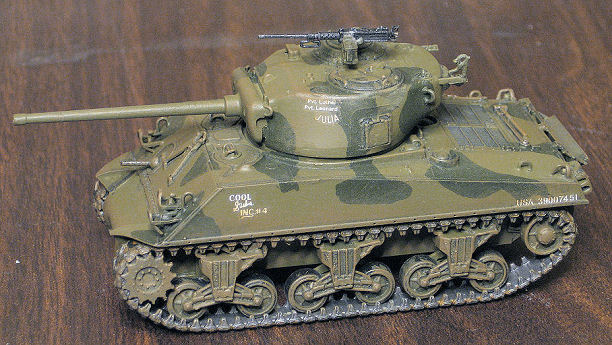 This is my 1/72 scale Dragon Sherman M4A3(76) built up as "Julia" from the 761st Tank Battalion "Black Panthers, Task Force Rhine, Germany 1945. I added most of the kit P/E parts such as the headlight and taillight guards and the periscope guards. I then painted it up with Model Master Olive Drab basecoat and hand painted Green Drab for the camo pattern. I gave it a dark wash and highlighted the raised detail with a drybrush of light olive. Finally, to dirty it up, I gave it a semi-drybrush of Pollyscale Dirt color along the running gear and lower hull with a light drybrush of the top surfaces. This is one of three Dragon M4A3(76) Shermans that I've built.
---